The development of office blocks and car parks over housing is a threat to the oldest part of Cork city.
A campaign to preserve Cork City's oldest parish The Marsh from poor development is under way.
The Marsh is the oldest part of Cork City and it's built on just that, a marsh.
Over the last twenty years, two-thirds of the population of the area has been moved from The Marsh to the new suburban housing estates on the outskirts of the city. The Marsh now has a population of 1,063 people, who are determined to remain in the area and are demanding action from Cork Corporation on long-term renewal schemes.
Waste and derelict areas are common here and many older residents live in rooms without light or sanitation. Only 23 dwellings have been built in thirty years but the Corporation says the first phase of its development will be planned by Christmas.
Tommy Baldwin, Chairman of the Middle Parish Community Committee, outlines the committee's demands for the area. They want at least a hundred houses built on the areas which are currently occupied by car parks.
We consider that the housing of people in the centre of the city is certainly much more important than the provision of car parks which we maintain should be on the outskirts of the city.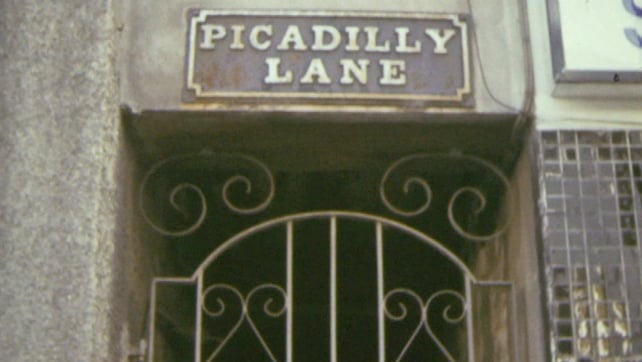 Picadilly Lane, Cork
Tommy Baldwin fears that if the redevelopment is not carried out, then the community in the Marsh area could die out as the buildings continue to decay.

An RTÉ News report broadcast on 18 October 1973. The reporter is Tom MacSweeney.