Journalist Nell McCafferty talks about working as a court reporter and being perceived as an angry woman.
Born and raised in Derry, Nell McCafferty is a journalist with The Irish Times, and a founder member of the Irish Women's Liberation Movement. Her work as a District Court reporter in Dublin's Bridewell Courts brings her close to people who find themselves in difficult situations, particularly working class women.
Her column 'In The Eyes of the Law', started fourteen months ago, is published five days per week, and is now widely read. Nell McCafferty is happy with what it has achieved so far, which has been,
To raise the consciousness of people generally, in regards to what's going on down there.
In addition to her full time job as a journalist, Nell also gives talks north and south of the border about the Irish legal system. As this means rubbing shoulders with judges, barristers and solicitors, what kind of a reaction does she get from them, given that their many of their pronouncements regularly are in print?
While she does not speak directly to judges, she can understand how they might feel,
They have been, in a sense, upset at my recording of them, day after day, in all their majesty.
She believes her column gives a voice to those who have none,
Nobody really speaks on behalf of the defendants.
While acknowledging that the type of work she does in the courts can take its toll, Nell McCafferty refuses to let it get to her. She admits that it is depressing, and feels bitterness against those in the higher echelons of society, as they neither understand how the other half live, nor have any sympathy for them,
There's a total authoritarian concept in this country of the bosses talking to the people down below.
It's not all doom and gloom, as solutions do exist, and revolution is one of them. Nell would also like to see socialism and Women's Liberation,
I don't think the two can be separated.
What are McCafferty's thoughts on being called a 'little angry lady revolutionary'? She is not bothered, as the people who she meets both in the courts and out and about agree with what she is saying.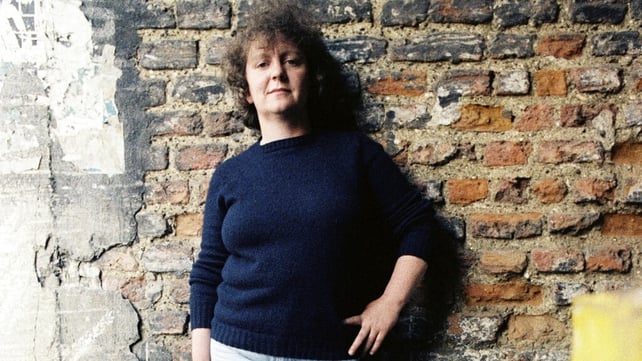 Nell McCafferty (1978)
There are two things that definitely annoy her those who claim to be liberals and talk about issues in society in an abstract way, and
I certainly object to the image of being a lady.
This report for 'Tangents' was broadcast on 5 March 1974. The reporter is Larry Masterson.
A miscellany of events, entertainment, opinions and personalities, 'Tangents' was first aired on Monday 25 September, 1972 and ran until 1974. Tangents was presented by Cathal O'Shannon and Doireann Ní Bhriain on Monday, Wednesday, Thursday and Friday and by John O'Donoghue each Tuesday.