Ben Dunne on the supermarket war, price fixing and proposed legislation to protect manufacturers and consumers.
The supermarket price war is putting increasing pressure on manufacturers with the closure of Dublin's oldest bakery Johnston, Mooney and O'Brien.
Johnston Mooney and O'Brien is down. Who is next?
Dublin's oldest bakery Johnston, Mooney and O'Brien has gone into voluntary liquidation resulting in the direct loss of 485 workers and further losses for delivery drivers.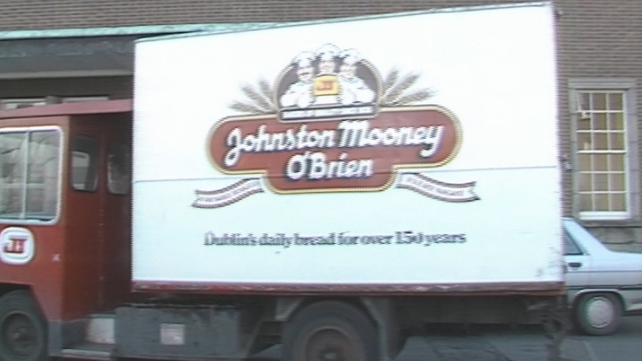 Johnston Mooney and O'Brien
The closure of the bakery caused an outcry among some of the opposition parties in Dáil Éireann claiming that the government should step in to put an end to the price war and protect jobs.
Olivia O'Leary introduces this episode of 'Today Tonight' examining supermarket price fixing featuring a rare interview with Dunne Stores Managing Director Ben Dunne.
A panel to discuss the issue includes Feargal Quinn of Superquinn, Pat Shanley from the Baker's Union, Barry Desmond of the Labour Party, and John Bruton of Fine Gael.
Ben Dunne had only ever given one television interview and that was with Today Tonight some months ago. In a section of that interview he speaks in detail about the price war and the power of the supermarkets.
Ben Dunne refutes the claim that the big supermarkets engage in any form of price fixing. He describes below cost selling and loss leaders as a fact of life. On the prospect of a law banning below cost selling, he sees the biggest challenge as the enforcement of this law. He points to the fact that the growth and success of Dunnes Stores has allowed them the ability to sell at lower prices by creating better economies of scale which can be passed on to consumers.
Dunnes Stores Better Value Beats Them All Everyday
Ben Dunne is unconcerned by the proposed new laws to control the size of supermarkets saying,
Once it becomes law, I don't question it.
While there are currently 44 Dunnes Stores supermarkets in Ireland, Mr Dunne believes that there is room for more.

This episode of 'Today Tonight' was broadcast on 28 February 1989. The presenter is Olivia O'Leary and the reporter is Paul Blanchfield.