A letter writer to Arthur Murphy's Mailbag is less than impressed with an item on the arts programme Exhibit A.
Gerard Kelly sent Mailbag a list of complaints about RTÉ's output with a focus on the programme 'Exhibit A'.
In an excerpt from the arts programme 'Exhibit A', sculptor Eddie Delaney tells presenter Frances Ruane about his latest work, a lamp post that would emit light without having a light at the top of it.
Gerard Kelly is not impressed with the artist or the presenter.
I have seen more sculpture on a council dump. My God, Arthur, who does he think he is? Welding bits of beds and buckets together and to make it worse, the presenter encouraged him in his depravity by her pander, engaging in pseudo-intellectual conversation.
This episode of 'Mailbag' was broadcast on 14 February 1985.
'Mailbag' presented by Arthur Murphy was a forum for viewers comments on the programmes on RTÉ television. The letters were read by presenters Pat Nolan and Margaret Fegan. The programme was first broadcast in October 1982.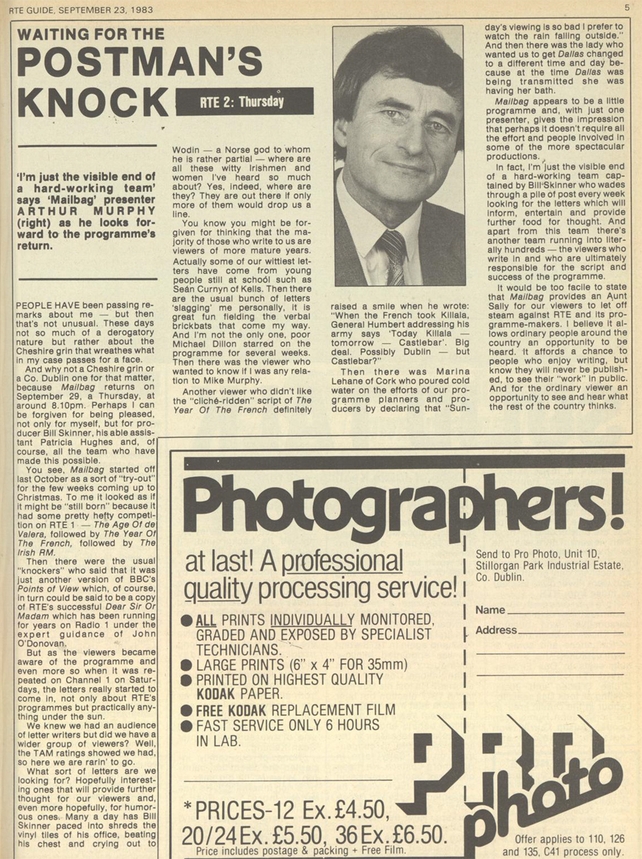 Mailbag's Arthur Murphy writes in the RTÉ Guide 23 September 1983