Spending time crawling around underground tunnels is some people's idea of a good time.
Jo-Maxi takes a look at the sport of caving. Jo-Ann Hanrahan from the Shannonside Outdoor Group the guide on an expedition through the Aillwee Cave in the heart of the Burren, County Clare. Caving since she was a child, Jo-Ann Hanrahan enjoys the thrill of crawling through the winding tunnels underneath the Burren's karst landscape. Presenter Antoinette Dawson is not immediately convinced.
Some peoples' idea of fun is really strange.
The crawling is rewarded, when they come to a large cavern and are treated to views of water trickling underground from overhead, leaving calcite deposits behind. And if it is stalactites and stalagmites you are after, it does not get much better than this. Thousands of years of water making its way down from above have resulted in the most peculiar looking rock formations.
Anyone can give caving a try but safety comes first. Always go with an experienced caver, and wear the correct clothing, a wetsuit, waterproof overalls, wellington boots, and a helmet with a light.
The leader's bag always contains a first aid kit, spare batteries, bulbs, and of course a bar or two of chocolate. There are lots of caving clubs out there who take small groups out regularly,
It's great, getting muck all over your face.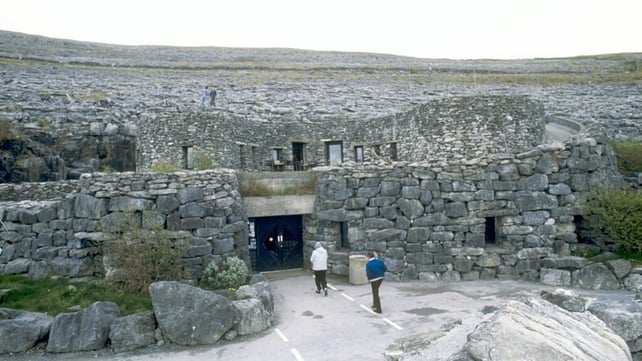 Entrance to the Aillwee Cave, County Clare (1988)
This episode of 'Jo-Maxi' was broadcast on 8 February 1989. The reporter is Antoinette Dawson.
'Jo Maxi' was a youth lifestyle programme targeted at 10 to 14 year olds. The programme contained features on a broad range of topics including animals, fashion, music, books and profiles of young people voicing their views on various subjects. The original presenters on the show were Ray D'Arcy, Geri Lalor, Clíona Ní Bhuachalla and Antoinette Dawson.
'Jo Maxi' first aired on Monday, 10 October, 1988 on RTÉ Network 2 and ran until 1994.