A tour of the Olympic Village in Mexico City as Mexico prepares for the opening of the Olympic Games.
Ireland is one of the 119 nations taking part the Games of the XIX Olympiad held in Mexico City, Mexico, the first Olympic Games to be staged in Latin America. RTÉ is in Mexico City to provide extensive coverage to the games on radio and television.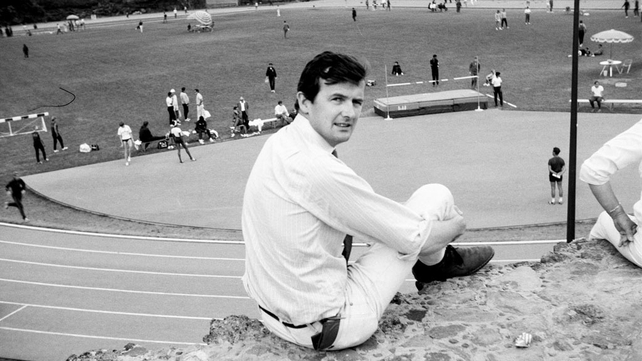 RTÉ broadcaster Brendan O'Reilly at the Mexico Olympics.
Although more than 300 student protesters were killed by the Mexican army and police on 2 October 1968,
There is a great air of excitement and despite the tensions that have been, on account of the riots, there is no indication of them whatever as one goes through the city.
People queue outside the Olympic Village from early morning to get a free bus tour through the village. While they cannot leave the bus, they can take in the sights of the village and possibly catch a glimpse of the athletes training.
Which really is a magnificent village, the people who have been to Tokyo and Rome say that it's even better than there, conditions are ideal.
The Irish athletes are enjoying their stay in the village immensely and are housed in block number 21 along with athletes from Australia, New Zealand, South Vietnam, Pakistan and Canada.
A 'Sport In Action' report broadcast on 10 October 1968. The reporter is Brendan O'Reilly.
Images of armed soldiers and tanks on the streets of Mexico City, prior to the Olympic Games, on 9 October 1968.