GAA warns of forged tickets ahead of the All Ireland Football final between Cork and Meath at Croke Park.
The forged tickets for the GAA senior football final are all terrace tickets, either for the canal end or Hill 16.
The tickets are easily identifiable when comparing a genuine ticket with a forgery side by side.
In daylight, the crest on the forged ticket is a gold colour, whereas on the genuine ticket it's silver. The forged tickets can also be indentified because in the bottom right hand corner the last two letters of the words "Mhichil" and Ard Stiúrthóir are missing.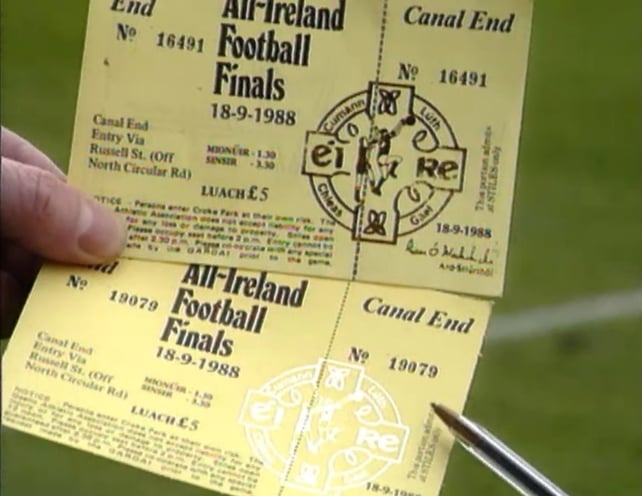 Forged GAA tickets at top and genuine tickets on the bottom (1988)
The Fraud Squad will be at Croke Park for the match tomorrow on the lookout for fake tickets.
Meanwhile, Cork fans arriving at Heuston Station in Dublin ahead of the final are hoping to end Meath's attempt to win back to back titles.
Cork team captain Tony Nation is feeling confident about Cork's chances.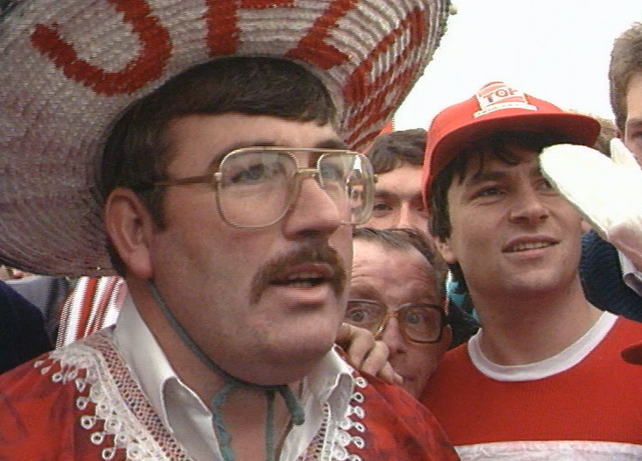 Cork Fans (1988)
An RTÉ News report broadcast on 17 September 1988. The reporter is Brian O'Connell.
The final played on the 18 September ended in a draw Meath 0-12 to Cork 1-19. A replay took place on 9 October when Meath took the title by one point with a final score of 0-13 to 0-12.