As railway lines give way to roads, model enthusiasts put the case for the retention of the train.
Debate over the future of the railways in Ireland is ongoing but railway lovers believe the future is on track.
Brian Farrell visits a model railway exhibition at the Royal Dublin Society (RDS) to find out more. He meets railway enthusiasts and model railway collectors Captain Martin Murphy and Martin Carroll to discuss the demise of the railway network and to see their extensive model railway collection.
Captain Murphy believes that trains have provided a viable form of transport for the last century and should continue to do so.
They've given service for a hundred years and there's no reason why they shouldn't give the same perfect service as they've given.
Martin Carroll describes the challenge involved in setting up the model railway. Martin believes that boys should begin to play with model trains as soon as they're able to walk and talk.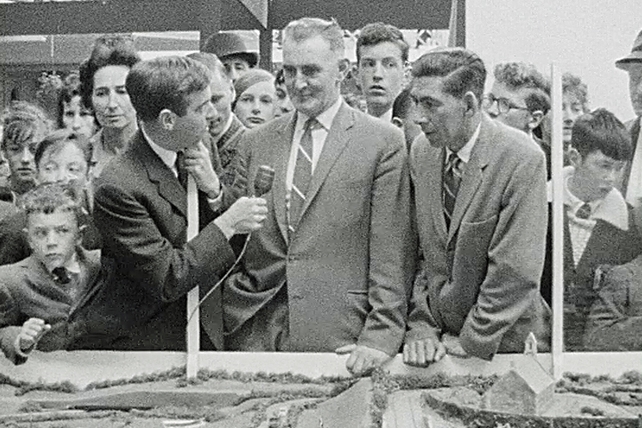 Brian Farrell, Captain Martin Murphy, Martin Carroll at the RDS (1963)
The keen enthusiasts say that railway modelling is not an expensive hobby. While the engines and coaches can cost a lot, everything else can be made with a bit of imagination.
This episode of 'Broadsheet' was broadcast on 28 August 1963. The reporter is Brian Farrell.