Will a new Bill be a step towards greater equality in marriage?
The Matrimonial Home Bill is part of law reforms being brought in by government in advance of new divorce proposals which will be put before the people next year.
The government is hoping that this new bill will resolve one of the issues which led to the 1986 divorce referendum defeat. Minister for Equality and Law Reform Mervyn Taylor says it also recognises the contribution made by the 700,000 women who work full time in the home,
I cannot for the life of me see that anybody could reasonably object to that essential principal, we're talking about husbands and wives we are talking about spouses living in their homes, that in this day and age in modern Ireland, it's time that both spouses were recognised equally.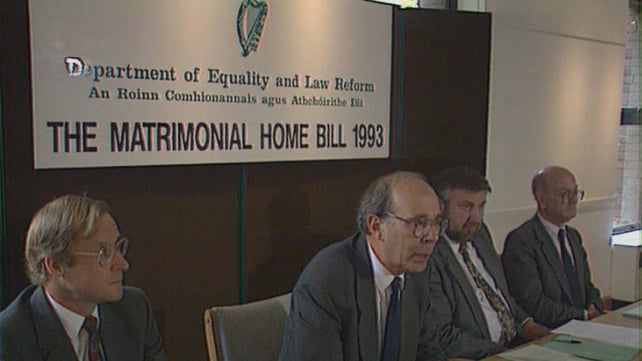 Mervyn Taylor TD speaking at launch of the Matrimonial Home Bill (1993)
The Matrimonial Home Bill would mean that husbands and wives will have automatic joint ownership rights of the marital home, unless they already had equal ownership, or unless they decide otherwise. It will also apply to tenancies and mobile homes. It does not apply to joint ownership of business premises or farms, although the farmhouse is covered.
Reactions from people in Dublin city centre were broadly positive. One woman says,
I think if both partners are together, share a lot of their lives together, something goes wrong, I think it's only right that it should be split down the middle.
The Divorce Action Group and the Council for the Status of Women also welcomed the bill, but Marie Therese Ainsmith from the Family Information Group adds a word of caution,
The Minister says that if people want to, they can opt out of joint ownership...whereas that is everybody's right. We would feel that people would need to be very careful and to make sure that they get legal advice.
An RTÉ News report broadcast on 25 June 1993. The reporter is Mark Little.