Dublin Fire Brigade tackle blaze at the five storey Burgerland building in O'Connell Street.
The fire which started shortly before 3 pm brought traffic in the capital to a virtual standstill as An Garda Síochána routed vehicles away from the O'Connell Street area. Dublin Corporation officials are making up their minds on whether to declare the building dangerous and keep one section of O'Connell Street closed.
Fireman, Damien Fynes broke his leg when he fell from a ladder as he cleared away signs, hanging dangerously from the front of the blazing building.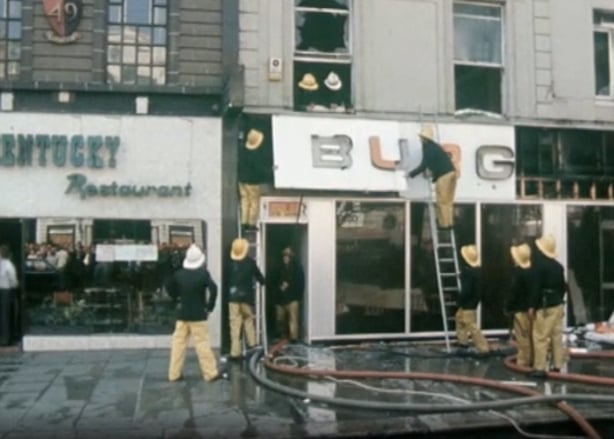 Burgerland Fire
Fortunately, nobody perished in the old building and most other injuries were caused by minor burns and cuts.
The search for those who may have been trapped in the blazing building started even before the fire was brought under control; certainly a number of people were taken screaming from the upper storeys directly to hospital.
The fire is believed to have started on the top storey in the building and within minutes the entire building was engulfed by flames and shortly after that, the entire roof collapsed.
One eyewitness who assisted in bringing two people working in the upper part of the building to safety says,
It just went up like an inferno, just like matchsticks.
Two other men describe how they helped to rescue some women trapped in the upper parts of the building. However, they could only do so much.
We had to come back down, he smoke, we couldn't go any further.
Incredibly nobody was killed, but the speed at which the fire took hold of the structure means there are safety concerns about such old buildings.
An RTÉ News report broadcast on 19 May 1978. The reporter is Derek Davis.