Dublin filmed from the top of the city's newest monument The Spire 120 metres above O'Connell Street.
On 21 January 2003 the 120 metre Spire in the centre of Dublin's O'Connell Street was finally completed. The following day, RTÉ cameras got an opportunity to see what the view was like from the top of the city's new landmark.
A crane 20 metres higher than the Spire raised RTÉ cameraman Paddy Higgins alongside the structure to film panoramic views from the top. He was joined in the crane's basket by Eileen Heron reporting for 'The Gerry Ryan Show' who was honoured to have a,
Once in a lifetime opportunity to see Dublin from that particular point of view and of course I'm particularly proud because I'm the first woman to have gone up in the basket.
The basket was raised parallel to the temporary aviation light at the top of the Spire. This light will be removed when the lighting in the centre of the sculpture is switched on.
The Spire of Dublin, also known as the Monument of Light was erected between December 2002 and January 2003 on the site of Nelson's Pillar in O'Connell Street. It was designed by architect Ian Ritchie, who won the Dublin City Council competition to find a suitable replacement for the Pillar.
An RTÉ News report was broadcast on 22 January 2003. The reporter is Paul Cunningham.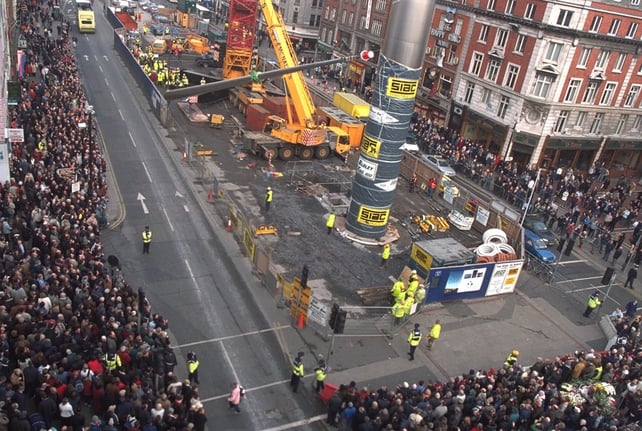 Crowds on O'Connell Street gather to watch the raising of the final section of the Spire of Dublin on 21 January 2003.