An early Cistercian church and monastery that became a military barracks Boyle Abbey has undergone conservation work and will open to the public.
Final preparations are underway in Boyle, Roscommon for the opening of the town's 800 year old abbey to the public.The abbey which dates from the year 1161 is regarded as the country's most impressive surviving example of an early Cistercian church.
The Cistercians were founded in Burgandy in France in 1098 and fifty years later they arrived in the West of Ireland. In 1161 they settled in Boyle and over a thirty year period built this elaborate church. The monk's unusual approach has intrigued archaeologists and historians over the centuries.
Architect Paul McMahon provides a description of the buildings where were built in the design of 'the architectural school of the west'. The Cistercians had set out to impose an austerity on the church in Ireland and this austerity is reflected in the building with unusual ornamentation not usually associated with this kind of church.
Strange animals devouring each other, strange people dancing, not at all in keeping with what we would find in France or in its counterpart in Britain.
For around 400 years, the monastery was a renowned seat of learning. Eventually, the monks were driven out of the monastery and throughout the 17th and 18th centuries, it was converted into a military barracks.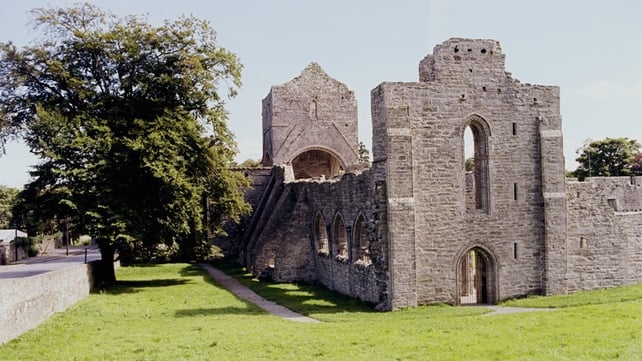 Boyle Abbey (1978)
Since 1892, the abbey has been preserved as a national monument and conservation work has been carried out on the structure. Under the ground, work is also being carried out by a team of archaeologists. Archaeologist Ann Lynch describes what the dig has revealed from the original cloister walls to the later work carried out by the army.
Work is now nearing completion on a visitor reception and exhibition centre in what was originally a military gatehouse dating from the Elizabethan period.
District Inspector Frank O'Connor describes the restoration and conservation work that is being carried out by local tradesmen using traditional skills.
Up to now, there had been only limited public access to the abbey. From June 1983 it will be open daily to the public with a full-time guide and caretaker. Paul McMahon anticipates that there will be an influx of visitors.
An RTÉ News report broadcast on 6 May 1983. The reporter is Jim Fahy.