A disused Waterford church will be used to showcase some remarkable archaeological finds in the city.
Waterford Corporation is to convert a disused Methodist church into a heritage centre to display the city's major archaeological finds. Those working on the digs in Waterford over the last few years could not have foreseen the importance of what was excavated.
At a site on Arundel Square, archaeologists found Viking ditch defences, Viking walls, Norman wattle houses and a church about twenty feet below modern street level.
Senior archaeologist Maurice Hurley describes the importance of the excavation which is one of the largest to be carried out in an Irish city. For Hurley, the finds are second in size and importance to those of Wood Quay in Dublin.
There is quite a lot of material that would have been produced in a cultural context where the Vikings and the native Irish were interchanging ideas and culture between one another.
Pieces discovered include a 13th century Norman table jugs from south-west France, a travelling flask dating from about 1250, ornately designed pots depicting a hunting scene from Bristol, valuable jewellery including amber beads from the Baltic, a comb made from carved antler which is around 700 years old, a bronze collar and arrowhead, a Norman leather shoe, and a complete hunting bow.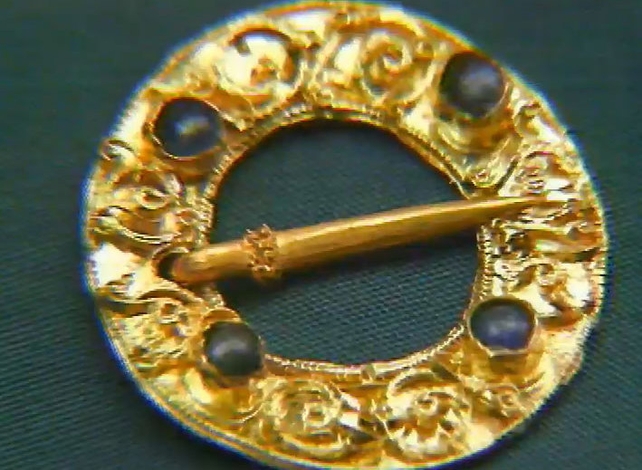 Waterford Brooch
The prize of all the finds is without doubt this delightful gold brooch, now fully restored by the National Museum and returned to Waterford.
There had been concern about where these valuable discoveries would be housed. This is now in hand as Waterford Corporation has purchased the disused Methodist Greyfriars Church, located in the city and an ideal location for a new heritage centre. The transformation and refurbishment of the building is due to be completed for the tourist season in 1989 at a cost of about £100,000.
City Manager Michael Doody sees the new heritage centre as part of a tourism drive for the city.
Not alone will it have our historical past but it will also be a visitor information centre.
An RTÉ News report broadcast on 3 May 1988. The reporter is Michael Ryan.