A new Kerry lifeboat Margaret Francis Love will be on call 24 hours a day 365 days a year.
The 'Margaret Frances Love' is ready for service from the Royal National Lifeboat Institution (RNLI) station at Valentia.
At 52 feet in length, with a maximum speed of 18 knots, this Arun class RNLI lifeboat can travel 220 miles at top speed. It also carries an in shore lifeboat. The upgraded vessel also makes life a little easier for the crew, as coxswain Seán Murphy explains,
You've got seating for seven on the boat, and everyone is strapped into the boat, so you've got great comfort in the boat now.
As part of their mission to ensure more lives are saved at sea, Youghal Lifeboat Station will be the recipient of a new Atlantic 21 class lifeboat next month.
The RNLI has been examining Irish coastline services, and is concerned about communication on the west coast of Ireland, as RNLI inspector Tony Course tells reporter Tom MacSweeney,
There aren't enough contacts on the west coast. The government have promised that they're going to put a remote stations in, but of course that costs a lot of money, and it's a question of time.
A registered charity staffed by trained volunteers, the RNLI does receive a State subvention, but Tony Course says this must be increased if their services are to expand,
It's very small compared with the total cost of this division, which is, in rough terms, over a million pounds each year. I think the feeling is that if a lifeboat station is to be set up, or maybe two lifeboat stations are to be set up on the west coast, then it would depend on a much more substantial subvention.
An RTÉ News report broadcast on 18 February 1983. The reporter is Tom MacSweeney.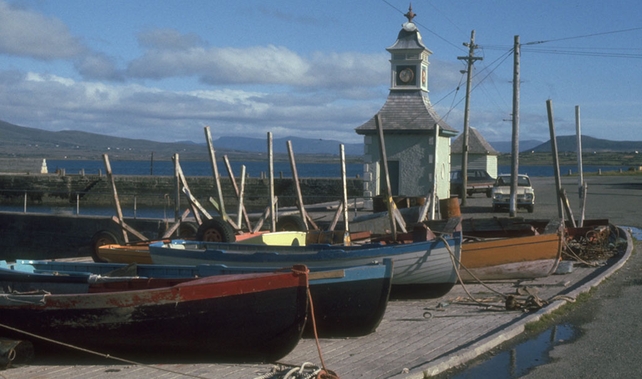 Rowing boats, Valentia Harbour, County Kerry.