Ag foghlaim Gaeilge le 'Anois is Arís'. Learning Irish for everyday use.
RTÉ and Bord na Gaeilge look to encourge viewers to brush up on their cúpla focal with the television series 'Anois is Arís', and an accompanying book.
Billed in the RTÉ Guide as "A light hearted course in spoken Irish", it was presented by Máire Ní Bhric, Ruairí Ó Báille, Padraig Ó Mealóid, and Gabriel Rosenstock. Humourous sketches featured Frank Kelly, Gabriel Rosenstock, Martin Dempsey, Maireád Ní Dhomhnaill and Brendan Cauldwell.
This episode is all about the different ways to express your opinion - cad é do bharúil?
Having learned some key phrases, viewers see three sketches where this language is used in everyday situations, and in different dialects. From discussing music, to enquiring in your local shop when the newspapers are due in, or even discussing the finer points of animal husbandry, a little can go a long way.
It might be prudent to exercise caution when talking about how you really feel about something, lest you cause unintentional offence, as you will see in the clip here!
'Anois is Arís' is based on the most up to date research on second-language learning, and according to an RTÉ Guide article of 2 October 1981,
The emphasis is on getting the hang of the language for everyday situations. The target is people who've forgotten much of what they've learned at school and want Irish made easy.
First broadcast on 11 November 1981, 'Anois Is Arís' ran for two seasons. This episode was broadcast on 17 February 1983.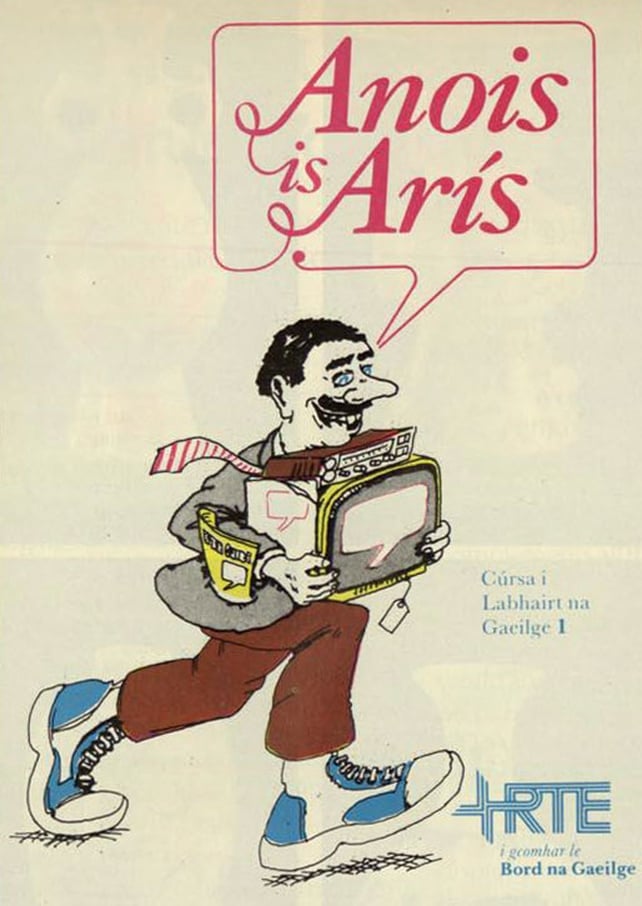 Advertisement for 'Anois is Arís' book, RTÉ Guide (1981)