A £2,000 reward is on offer to anyone who can find Banjo an Amazonian pet parrot who has gone missing in Wexford.
Banjo is an eighteen-month-old parrot who until recently lived at Ballycogley Castle in County Wexford.
Banjo is described as looking exactly like Rosie, another parrot belonging to the same owner Mary Boland who bought the parrots for £500 each. Banjo and Rosie are Amazonian parrots and are highly intelligent.
When Banjo flew out an open door over two weeks ago, he was frightened away by nearby shotgun sounds from farmers.
If not already attacked by hawks or foxes, Banjo would have been able to live off his own body fat.
Mary believes that Banjo may still be alive and feels that a £2,000 reward is a small price to pay to get Banjo back.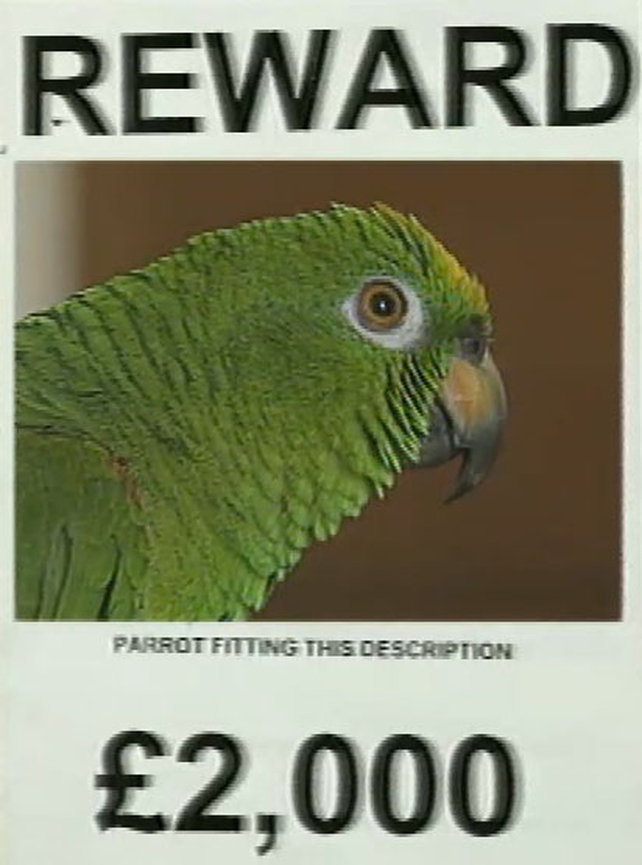 Mary has been distraught since Banjo went missing and Rosie even stopped eating for a while.
Mary would even go as far as to give over and above £2,000 for Banjo's safe return home.
It means everything to me. The money doesn't matter at all.

An RTÉ News report broadcast on 5 February 1998. The reporter is Damien Tiernan.