Georgian houses once the mansions of the wealthy have fallen into decay and disrepair but are still homes for some Dubliners.
A survey of Georgian and Neo-Georgian Dublin architecture highlights the neglect and resulting dilapidation these buildings have been subjected to. While Georgian often suggests opulent surroundings this is not always the case.
Christopher Fitz-Simon takes a critical look at some of the places the Irish live in or neglect, and Dublin's Georgian houses are a case in point.
In this extract from the programme, tenants in a dilapidated building on Merrion Square describe their living conditions. There are five families living in this one house with no toilet, rat infestation, and holes in the roof. They describe their efforts to stay dry and the temporary measures they have taken to improve their overall living conditions.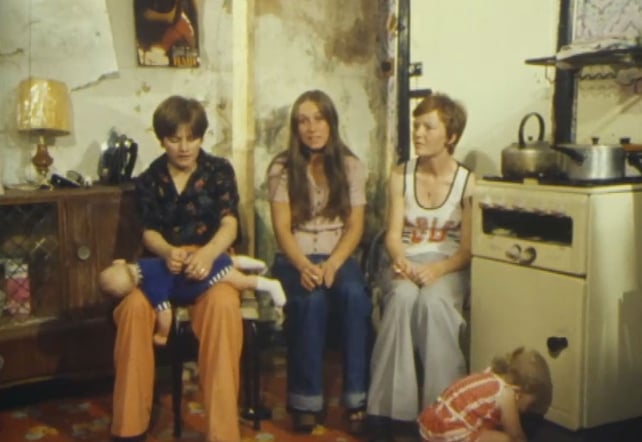 Tenants on Merrion Square, Dublin (1977)
Many similar buildings around Dublin have fallen into disrepair. Architectural historian Dr Maurice Craig says that there is no reason why these buildings should fall into this state as long as they are maintained. Unfortunately, according to Craig, the Irish have been guilty of neglecting our buildings. The trouble comes when water gets inside the walls.
Bricks will last for well over a thousand years, even in a climate worse than ours. Stones will last indefinitely. Timber, if it's kept dry, will last also indefinitely.
Dr Craig also explains what exactly the term 'Georgian' refers to when it comes to architectural features including the fanlights, window size, and a mysterious brass rail.
'We Live Here: Georgian Dublin' was broadcast on 11 November 1977.
'We Live Here' was a series dealing with aspects of the Irish environment, in particular, that which is man-made.
This episode of 'We Live Here' was written and produced by Christopher Fitz-Simon. The Architectural Advisor was Seán Rothery.