Volunteers set about restoring stretches of the Royal Canal with the hope that one day it will be a leisure waterway.
Funding and official support for the restoration work were slow in coming as during the seventies volunteers and local councils began to work on turning the canals into public amenities.
In 1962 the Royal Canal was officially closed down and fell into disrepair and neglect. The Royal Canal offers the potential of a linear park stretching halfway across the country. The canal is owned by CIE who no longer need it and do not have sufficient resources to maintain it. The canal is due to be handed over to the Board of Works but until this happens all restoration work falls to volunteers and community groups. In 1974 volunteers from the Inland Waterways Association of Ireland formed the Royal Canal Amenity Group to save the canal.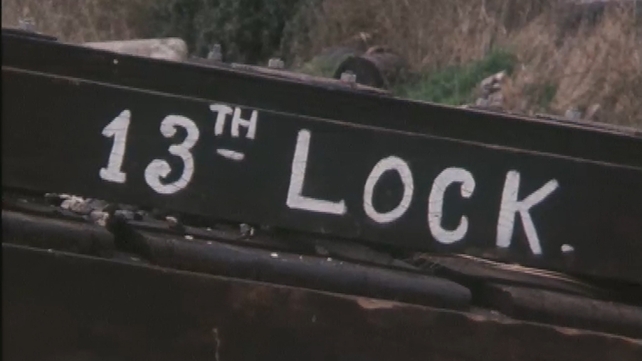 Royal Canal, 13th Lock
In this amenity starved age, voluntary effort has brought life to part of Ireland's industrial heritage.
A spokesman for the Royal Canal Amenity Group says that it is hoped that the Royal canal will be completely restored in about eight years.
Pressure from local councils and volunteers has produced some funding. The money has gone into building lock gates which have yet to be installed. The Lock Gate Construction Programme was inaugurated by the Minister for Transport Albert Reynolds in March 1981 who at the time promised that the Department of Transport would install the locks. However, the promise to install the locks was not fulfilled by CIE, when a change of government occurred. If the locks were installed, the canals would be yet again operational.
A government sponsored ANCO team in a warehouse on Watling Street is making new lock gates for the canal with the aim of bringing it back to life. The lock gates cost £8,000 a set However, as the locks are being crafted but piled up as they wait to be installed along the canal.
This episode of 'Ireland's Eye' was broadcast on 22 April 1982.