What is the attraction in gambling on a horse race? Those placing bets in a Dublin bookmakers explain.
Gambling comes under scrutiny in the fifth episode of 'Survey' a series which examines the attitudes of Irish people to some of the major influences in their lives.
With its atmosphere, excitement and glamour, the attraction of the horse racing track for those wishing to place a bet i s obvious. However the draw of the bookmakers shop is less easy to define. Particularly as many bookies are drab and uncomfortable places in which to pass the time. Bookmakers are not permitted to provide facilities for patrons and one betting shop was fined for installing a colour television. In spite of the surroundings, the bookies is often the destination of choice for gamblers.
I'd sooner have a bet in the bookies just to pass the time of day.
Attending the track is an expensive business and the beauty of the bookmakers is that it takes small bets, some of them as low as five pence or a shilling. The average bet is 50 pence or lower. Nevertheless, these tiny bets add up and in 1976 the bookies shops took in £46 million.
Certain types of people who are more likely to be drawn to the bookies.
People who live humdrum lives and sort of stereotype dull occupations, they need to get some kind of thrill and excitement and they go to the bookies shop.
One man interviewed in the bookmakers considers it time well spent.
I get a better kick out of backing a horse than I would having a drink.
How to pick a winning horse, however, is anybody's guess. Punters can follow the advice of a racing tipster, stick a pin in the newspaper, go by the jockey, or if the name of a horse resonates.
I just take a chance that's all, it's a game of luck.
Horse racing as a sport wouldn't exist without the bookie and the punter, and the money that changes hands. Inevitably the money traffic is one way, it is the bookie who counts the change, the punter that counts the cost, and that seems to suit both of them.
This episode of 'Survey' was broadcast on 12 April 1977. The presenter is Pat Kenny.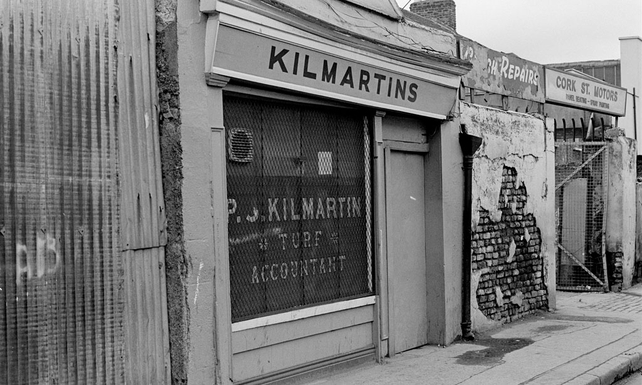 Kilmartins on Cork Street in Dublin.