Forensic tests carried out in Britain on the diaries of Sir Roger Casement have shown the documents are authentic.
For the best part of a century, the argument over the authenticity of The Black Diaries of Sir Roger Casement has divided historians.
Some had denounced the so-called 'Black Diaries' as forgeries. But the results of recent tests, published on 12 March 2002 and partly funded by RTÉ, have shown they were in fact written by Casement.
They contain accounts of the real and imagined homosexual activities of one of the most important figures in Anglo-Irish history.
In 1916 Roger Casement was hanged for treason after trying to garner German support for the Easter Rising. Before he was executed the British published extracts from the diaries in order to silence influential supporters who had called for clemency on behalf of Casement. The British were successful in this regard. Some historians believed that the diaries had been forged to smear Casement's name.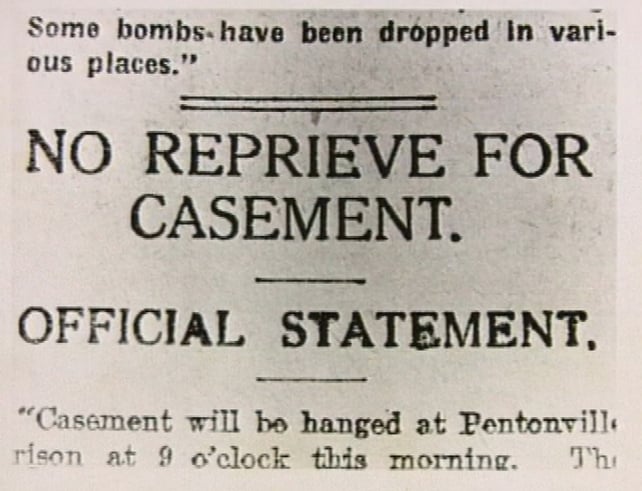 Recent forensic tests now show them to be the real deal. A statement from Professor Bill MacCormack of Goldsmiths College, University of London concludes that
Each of the five documents, collectively known as the Black Diaries, is exclusively the work of Roger Casement's hand without any region to suspect either forgery or interpolation by any other hand.
Alan Gilsenan director of a new RTÉ documentary on the subject 'The Ghost of Roger Casement' still has his doubts about the results of the forensic examination which was carried out by the British.
Roger Casement was hanged in London and his remains were returned to Ireland in 1965 almost 50 years following his death.
An RTÉ News report broadcast on 12 March 2002. The reporter is Brian O'Connell.