Executed for treason and buried in London in 1916, Roger Casement's remains return to Ireland.
Roger Casement's remains were repatriated from London to Dublin, where he received a state funeral almost 50 years after his execution.
This RTÉ News report shows Roger Casement's remains lying in state at the Church of the Sacred Heart, Arbour Hill in Dublin. Mourners lay wreaths and file past the coffin as it rests on the catafalque.
Roger Casement was executed for treason at Pentonville Prison England on 3 August 1916 at the age of 52. He was buried in the prison cemetery. In 1965 his remains were repatriated to Ireland and he was given a state funeral. He was buried in the Republican plot at Glasnevin Cemetery on 1 March 1965.
Although a British diplomat, Roger Casement joined the Irish Volunteers in 1912 and attempted to secure German aid for Irish independence. He was hanged in Pentonville Prison, London in 1916, for treason against the crown.
An RTÉ News report broadcast on 27 February 1965. The footage shown here is mute.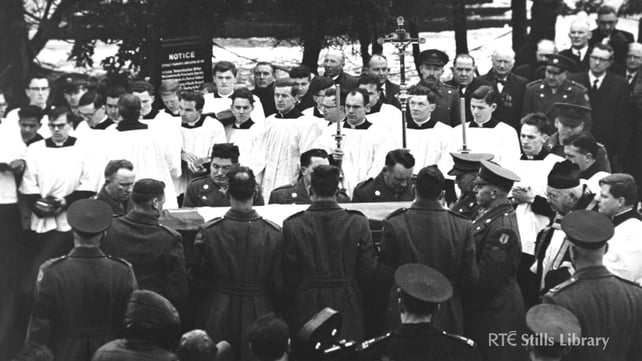 Roger Casement reinterred to Glasnevin Cemetry, Dublin on 1 March, 1965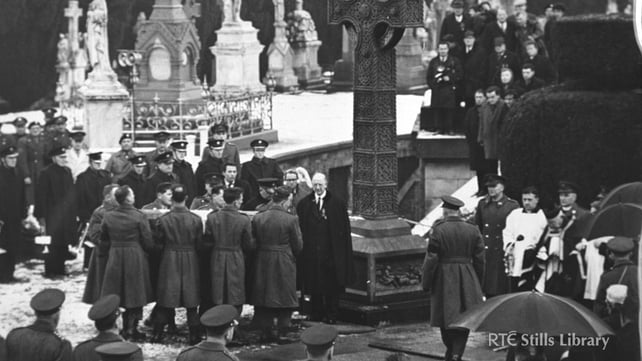 President Éamon de Valera at the ceremony in Glasnevin Cemetry on 1 March, 1965