'Head To Toe' pays a visit to the Ulster Museum exhibition 'Fabric And Form : Irish Fashion Since 1950' marking the achievements of Irish fashion in the 20th century.
New up and coming fashion designers such as Maggie McAtamney from Northern Ireland are represented in the Ulster Museum exhibition alongside internationally renowned designers such as Sybil Connolly, Philip Treacy and Peter O'Brien.
Keeper of Applied Art at the Ulster Museum Elizabeth McCrum, believes the strengths of the Museum's collections lie in 20th century haute couture; clothes produced by leading fashion houses. The exhibition is a showcase of what Ireland has achieved, and aims to show what is distinctive about Irish fashion.
Included in the exhibition are fashions bearing strong 1960s designs by Neilli Mulcahy, Ib Jorgensen evening wear, Paul Costello's 1984 collection and pieces by Lainey Keogh whose designs are at the vanguard of the Irish knitwear industry.
According to Deputy Features Editor of the Belfast Telegraph Jane Bell
Most of us dress in chain-store fashions, let's face it, and we aspire to clothes like these, but it is wonderful to see them in a sort of living textbook as we have here.
McCrum notes that in the early period while people aspired to haute couture, as the decades progressed fashion became more casual and simplified.
This episode of 'Head To Toe' was broadcast on 21 January 1997. The reporter is Barbara McMahon.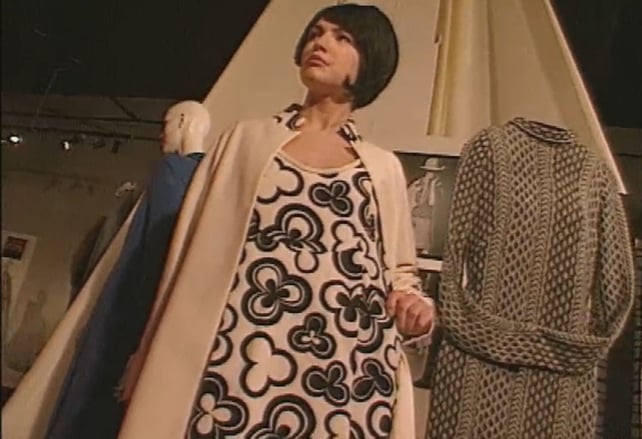 Dress designed by Neilli Mulcahy.