Happy Birthday John Rocha! Irish-based fashion designer John Rocha turns sixty today.
Having now attained international success in the fashion world we take a look back 20 years when John Rocha was named Designer of the Year at the prestigious Lloyds/Rank British Fashion Awards in London.
Following an unprecedented reaction to his autumn-winter collection shown in London, John Rocha is firmly back at the top of the fashion industry ladder. His decision to join Brown Thomas, after his business hit the rocks in the late 80's, marked a change of fortune for Rocha. Among the supermodels to show Rocha's clothes is Naomi Campbell, who at the time of this report was engaged to U2's Adam Clayton. Supermodels Yasmin Le Bon and Christy Turlington have also modelled his collections on the catwalk.
Pat O'Mahony, presenter of RTÉ's flagship fashion show 'Head to Toe', comments on Rocha's win and the impact it may have on the Irish fashion industry.
This report for RTÉ News was broadcast on 19 October, 1993.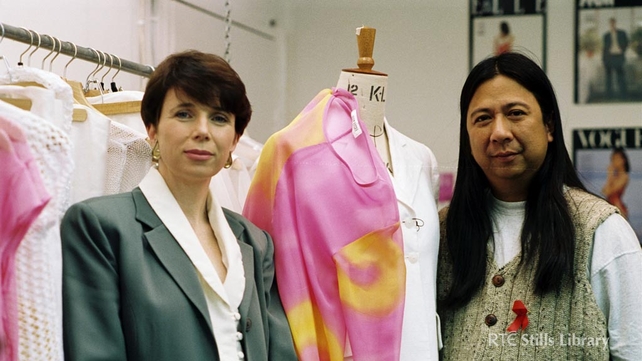 Broadcaster Iseult O'Doherty and designer John Rocha (1994)