Bloomsday is the day when James Joyce's Leopold Bloom set out on his epic journey through Dublin in 1904 as described in his literary masterpiece, 'Ulysses'. On 16 June every year, Joycean enthusiasts follow in his footsteps.
A crowd gathered for a street party at No. 7 Eccles Street where Leopold Bloom lived. The site is now occupied by the Mater Private Hospital. Minister for Labour Bertie Ahern unveiled a special plaque there to commemorate James Joyce.
Various Joycean lookalikes of all shapes and sizes were gathered to sample Joycean delicacies - but oysters aren't for everyone! Though some children gathered at the event weren't familiar with Joyce's works they all joined in in the celebrations.
He has a pair of glasses that's all I know!
Ulysses recounts a day in the life of Leopold Bloom, in 1904.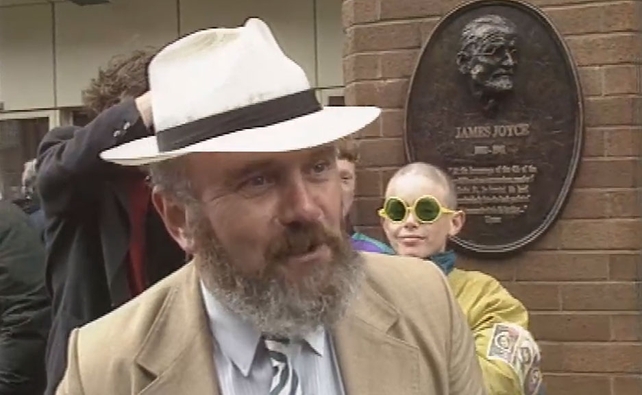 David Norris (1991)
David Norris quotes from Stephen Dedalus in Ulysses pronouncing the word for the sound of a wave crashing on Sandymount Strand on Bloomsday 1904
Listen: a four worded wave speech: seesoo, hrss, rsseeiss, oos.
An RTÉ News report broadcast on 16 June 1991. The reporter is Una O'Hagan.