Presentation Convent in Athenry, county Galway is the setting for the launch of the Arts Council Scheme for Murals in Primary Schools.
What was once a dull end wall in the assembly hall of the Presentation Primary School, is now a work of art created by about 100 of the schools budding young artists. The mural is described as
A strikingly colourful kaleidoscope of ideas and images
Impressed by the quality of the work, the Arts Council decided to use the mural on the cover of their new brochure for the project 'Paint on the Wall'. The booklet will be distributed to every primary school in the country. Schools wishing to take part in the scheme will receive both money and advice from the Arts Council. Adrian Munnelly of the Arts Council tells RTÉ News how schools can get involved.
The children conceive the idea, get it down on paper and then execute it on the school walls...The idea is to introduce the visual arts in a stimulating way as possible into primary schools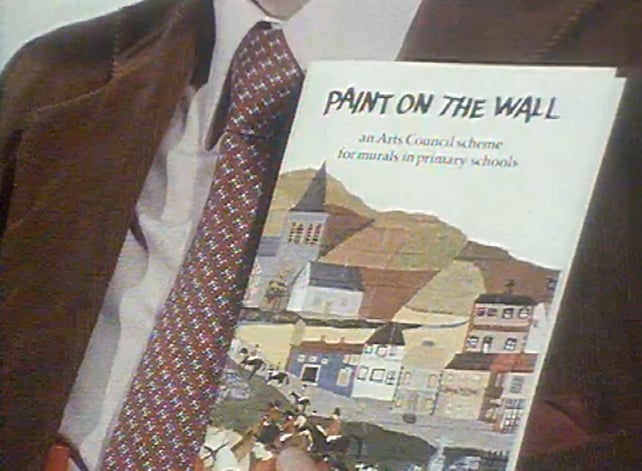 Paint on the Wall Booklet (1981)
At the official launch of the project Colm O'Briain of the Arts Council congratulates the artists on their work. He also commends the work of artists Derval Jordan and Helen O'Donoghue, who were instrumental in getting the project off the ground.
The Athenry mural attempts to capture the town's rich history and lifestyle. Students from the school explain the rationale behind their work. Sister Kevin from Presentation Convent describes how the students have transformed the drab walls of the school .
An RTÉ News report by Jim Fahy broadcast on 27 February 1981.