In the summer of 1975 the English scholar, poet and novelist Robert Graves visited Ireland as guest of honour at a poetry seminar held in University College Cork (UCC). 'Robert Graves at Eighty' documents the highlights of his four day visit.
Robert Graves has an ancestry strongly connected with Ireland. His father Alfred Perceval Graves, an Irish poet best known for 'Father O'Flynn', was an important figure in the Irish literary revival. His grandfather Charles Graves was the Anglican Bishop of Limerick, Ardfert and Aghadoe.
In this extract from 'Robert Graves at Eighty' the poet spends time in his ancestral home of Limerick. While there he visits his grandfather's burial place in the grounds of Saint Mary's Cathedral. Graves narrates two of his poems, 'Advent of Summer' and 'Name' both recorded at a poetry recital in UCC.
During the First World War Robert Graves brought a battalion of the Royal Welch Fusiliers to Ireland. He tells an amusing anecdote about when he played rugby against Limerick City during this period. He also remarks
Two things of importance happened to me during the war. One was that I broke my neck and the other was that I died of wounds officially.
Robert Graves eventually died from heart failure on 7 December 1985 aged 90.
'Robert Graves at Eighty' was broadcast on 29 December 1975.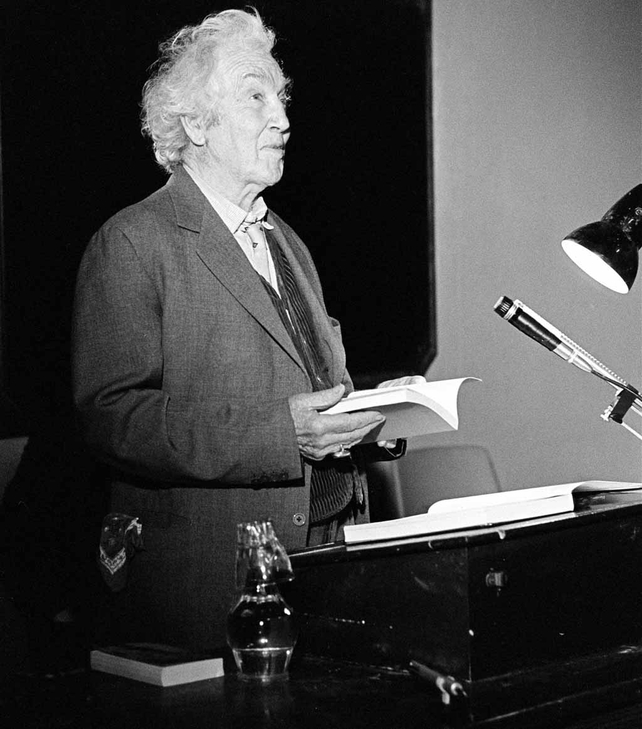 Robert Graves reciting poetry in University College Cork.