Traditional Irish music expert on how he has compiled a list of 6,000 tunes.
Music collector Breandán Breathnach was born in Dublin in 1913 and was raised in the Liberties area, where he learned to play the uilleann pipes. He was chairman of Na Píobairí Uilleann and a member of the Arts Council. He worked as a civil servant.
In 1963 Breathnach published the first volume of 'Ceol Rince na hÉireann', a collection of Irish traditional music. The third volume came out a year before he died. In this 'Iris' interview, broadcast to mark his death on 6 November 1985, he talks to Michael Davitt about his work.
Tá mé ag déanamh clár don cheol damhsa...agus cén áit a bhfuil siad le fáil, i leabhair atá i gcló cheana fhéin, i lámhscríbhinní nó ag ceoltóirí... Beidh cnuasach iomlán de cheol na hÉireann ar fáil agus beidh clár don cheol freisin ann.
Breandán Breathnach shows Davitt the index cards he has compiled, indicating the earliest dates of traditional Irish tunes, where they can be found, in books or in manuscripts. So far, he has written 6,000 parts of his tune index, of which there will be 7,000 when complete.
This edition of 'Iris '85' was broadcast on 11 November 1985.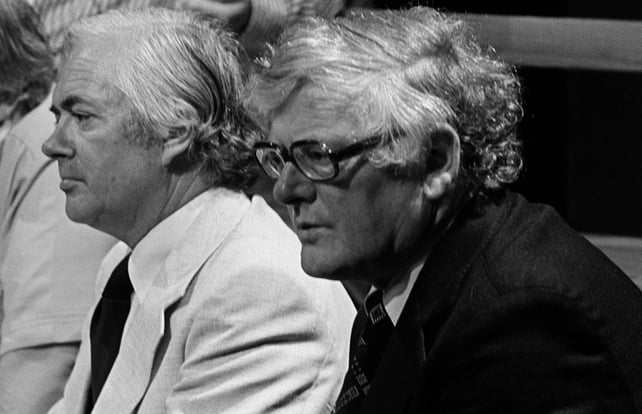 Breandán Breathnach (right) with broadcaster Ciarán MacMathúna (1978)