Ongoing industrial disputes at Dublin Bus and Bus Éireann have led to an all out strike and a halt to services. Another in a long line of industrial disputes over working conditions.
1979 was one of the worst years for industrial disputes in Ireland. A postal strike lasted over four months and a national bus strike resulted in the army being called in to help commuters.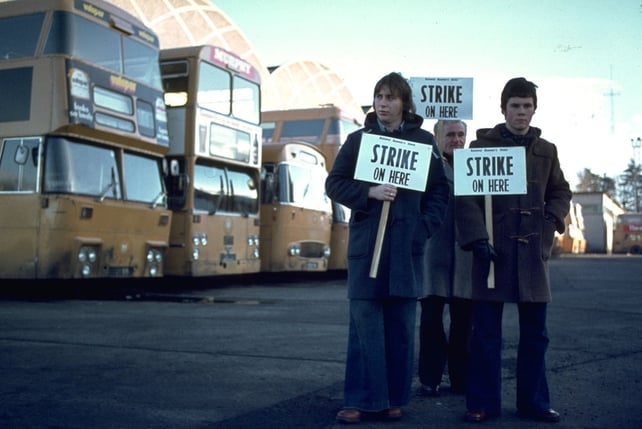 Picket at Donnybrook Bus Garage, Dublin (1979)
The National Busmen's Unions say their pay packs often don't contain a living wage.
The strike had been planned since just after Christmas 1978. In this report from current affairs programme 'Frontline', regional union representatives are pictured gathering to discuss a potential solution. Unions, management, court officials and members of the National Busmens Union met at Davitt House, which houses the Department of Labour and the Labour Court. The last minute negotiations failed to find a resolution and the strike went ahead.
During the 1979 bus strike the army were brought in to provide transport for commuters and many found themselves travelling to work in the back of army lorries. The service was provided free-of-charge by the army and continued for the duration of the bus workers dispute.
The commentary on this report is provided by Michael Ryan.
Frontline: Diary of a Strike was broadcast on 15 January 1979.