Profiling the life and work of artist Pauline Bewick
A look back at a film biography by David Shaw-Smith of the artist Pauline Bewick.
The documentary 'Painted Diary', made by David Shaw-Smith, profiles the life of the artist from her early childhood in Kerry to the present day.

In this excerpt from the film, Pauline is pictured in the wilds of Co. Kerry painting. She discusses her early life in Kerry and the positive influence her mother had on her pursuit to become an artist.
In the RTÉ Guide 1 February, 1985 David Shaw-Smith comments on Bewick's professionalism and her care for the tools of her trade, as the reasons for making the documentary.
Filmed on location in Dublin and Kerry, the film also features her husband Patrick Melia, her daughters Poppy and Holly, the tapestry weaver Regins Barisch Treffkorn, author Claire Boylan, and Editor of Cosmopolitan, Deirdre McSharry.
'Painted Diary: Pauline Bewick' was first broadcast on 4 February 1985.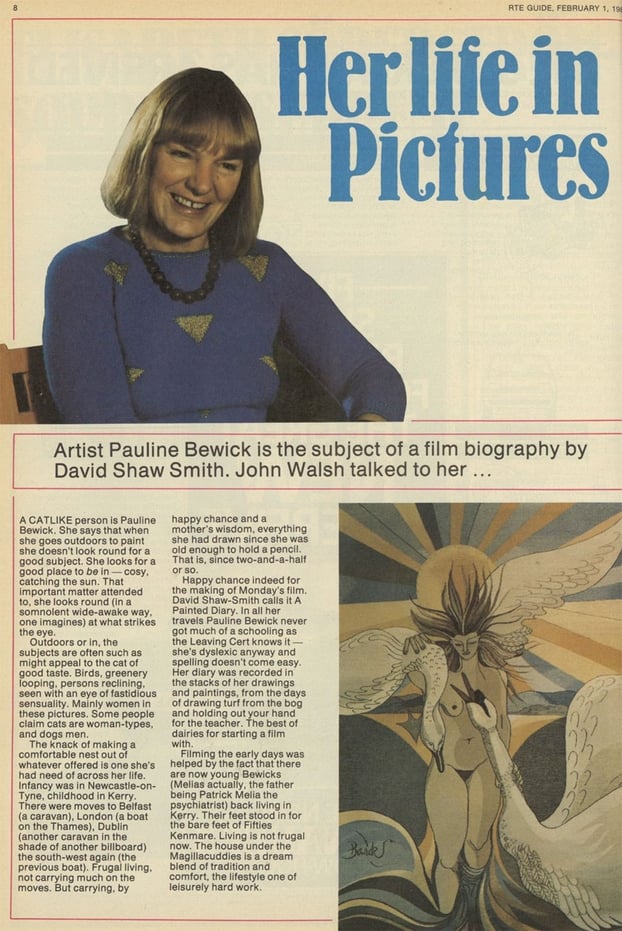 RTÉ Guide, 1 February 1985