Before becoming a broadcaster with RTÉ Marian Finucane studied architecture.
Before becoming an RTÉ broadcaster and household name in Ireland, Marian Finucane studied architecture.
Pictured here at the age of 19 Marian was part of a student occupation of 45 Saint Stephen's Green, Dublin where they were carrying out work to restore the partially demolished building.
Finucane practised architecture until 1974 when she joined RTÉ as a continuity announcer, later becoming a presenter. In 1979 she received a Jacob's Award for her work on the programme 'Women Today'. Finucane also presented the radio programme 'Liveline', and worked on television programmes 'Consumer Choice' and 'Crime Line'. She now presents 'The Marian Finucane Show' on RTÉ Radio 1.
This episode of 'Wednesday Report' presented by Patrick Gallagher was broadcast on 14 January 1970.
The report for the programme 'Wednesday Report' was recorded during Christmas week of 1969.
'Wednesday Report' was a weekly series presenting a report on and analysis of a matter of current public concern, at home or abroad.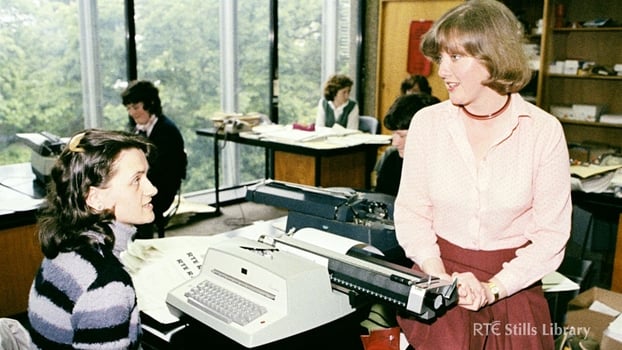 RTÉ broadcaster Marian Finucane and colleague (1979)