How did International Women's Day begin? What do people think of a day dedicated to honouring women?
Every year since 1908, 8 March has marked International Women's Day. 'Evening Extra' looks at the origins of the day and gets the views of women on the streets of Dublin.Ingrid Miley takes to the streets of Dublin to find out what women and one man think about International Women's Day.
Views on the day are mixed with some women not knowing anything at all about it.
I think we should be all in it together. I don't like this idea of men and women. I just prefer to think of all of us as people.
It reminds people that women still have a fair way to go.
We need more than one women-only days in the year. We need quite a few just to let the men know what we stand for.
I think women today have so much freedom... like, they don't really need to have a day of their own.
It's a man's world.

In studio, Aonghus McAnally outlines the origins of a day which dates back to 1908. When a New York shirt factory caught fire, many women workers trapped inside were burnt to death. On 8 March 1908, women textile workers marched through the city to protest over the appalling work conditions they had to endure.
Caroline McCamley, Chairwoman of the Council for the Status of Women and Fran O'Grady of the Wexford Women's Festival Committee explain the thinking behind their organisations.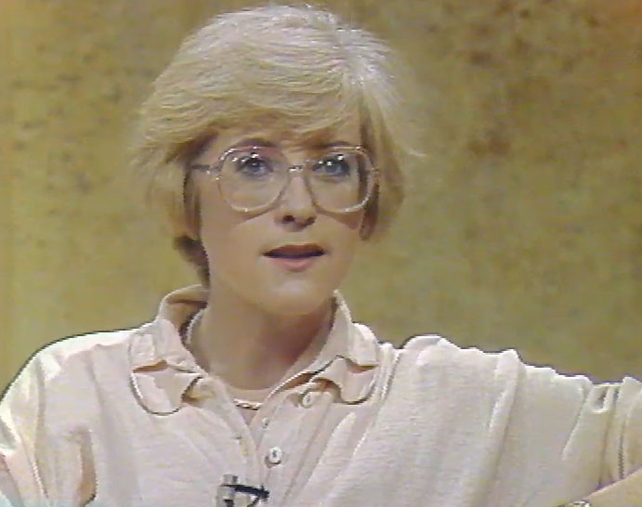 Caroline McCamley
Caroline McCamley is heartened by the fact that most of the women interviewed see International Women's Day as a cause for celebration.
For some women it's a day to simply celebrate being a woman and to have a good time and to relax and meet friends and so on. For others, it's an opportunity to make a political statement and I think whatever it is that's good for you, well that's what it's about.
Despite the many advances for women in Irish society, they still face many grave difficulties and are still treated very much as second-class citizens.
We tend to have low paid jobs. We tend to have low status in society. We tend to be expected to be the carers and the problem solvers on a day to day basis. We are generally speaking the full-time parents and that is all happening with no services within the community to assist in what is an extremely responsible area of work.
Fran O'Grady explains the background to the week-long Wexford festival which started in 1983. The idea for the festival came from Wexford Arts Centre to promote women in the arts.
The idea was that women in the arts didn't have the same platforms as their male counterparts.
Since its inception, the agenda for the festival has broadened and will include an indoor street carnival type celebration on the opening night.
Positive discrimination to promote women artists.
For Fran O'Grady, International Women's Day is a celebration of women's struggle for equality.
This episode of 'Evening Extra' was broadcast on 8 March 1988.