For 190 years the Shelbourne Hotel has stood on St. Stephen's Green and has become a landmark synonymous with this area of Dublin.
A new documentary series 'The Shelbourne' takes an access all areas view of the day to day running of the hotel. Part one of this six-part series starts on Thursday 17 July on RTÉ One at 8.30pm and follows the inner workings of the hotel, beginning as the kitchen staff prepare a fine-dining banquet for 120 food experts.
In 1979 the Shelbourne Hotel featured in the programme 'Dublin - A Personal View'
Éamonn Mac Thomáis takes a stroll around St. Stephen's Green in Dublin and explains the effect it has had on the lives of the citizens through the years.
The Shelbourne Hotel features in the programme with Mac Thomáis standing outside the Dublin hotel relaying stories from writer W.M. Thackeray's 'Irish Sketchbook' in which he describes a stay at the hotel.
'Dublin - A Personal View' was made for RTÉ by David Shaw Smith, who also made the 'Hands' series.
This episode was first broadcast on 12 June, 1979.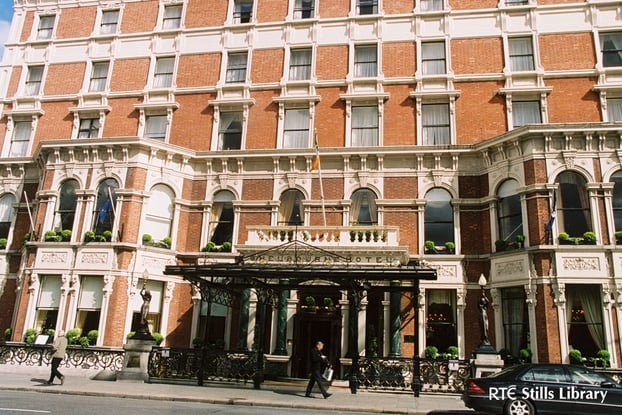 For more information on 'The Shelbourne' visit http://www.rte.ie/tv/programmes/theshelbourne.html