The Mary Raftery Fund is hosting a screening of RTÉ television series 'States of Fear' followed by two panel discussions on its legacy on 24 May 2014 at the IFI in Dublin.
The event in association with the IFI and RTÉ is part of a month of screenings marking the 15th anniversary of the watershed series that exposed the abuse of children in Ireland's industrial schools during the 20th century. 'States of Fear' forced the Irish government apologise to victims and led to the establishment of a Commission to Inquire into Child Abuse.
'States of Fear' was written, produced and directed by the late Mary Raftery. This is the opening sequence from the first programme, broadcast on 27 April 1999. It shows a painting by Katy Simpson. The first of the three programmes looks at the experiences of children in the industrial schools from the 1940s to the 1980s. The second focuses on children who grew up in hospitals and institutions for the blind, deaf and disabled. The final programme examines more recent abuse of children in institutional care. 'States of Fear' was researched by Sheila Ahern and narrated by Áine Lawlor.
After the IFI screenings on 24 May 2014, a panel chaired by Mary Wilson will examine the impact of 'States of Fear' and its legacy. A second panel chaired by Fiach Mac Conghail,director of the Abbey Theatre, will look at how people's stories are told in film and drama.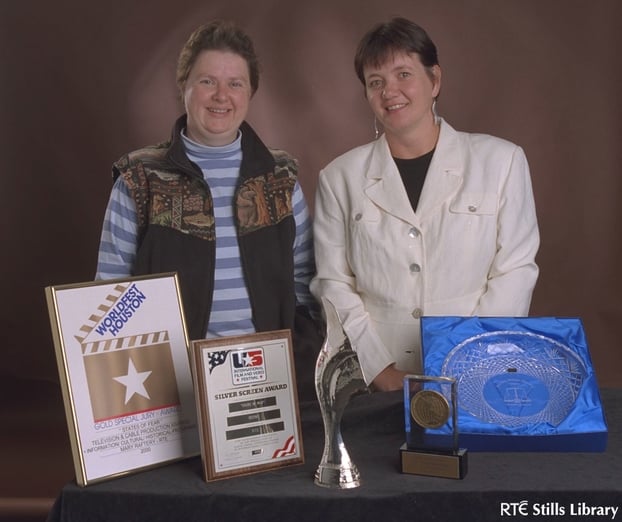 Mary Raftery and Sheila Ahern, with some of their awards for 'States of Fear'. The photograph was taken by Tom Holton in 2000.