In September 1973, UK prime minister Edward Heath flew into Baldonnel Airport in Dublin for a summit with the Taoiseach Liam Cosgrave on a proposed Council of Ireland and a power-sharing Northern Ireland executive.
RTÉ News reports from the press conference held afterwards. Heath says that it is up to the newly-elected Northern Assembly to find a way of power-sharing, but he is there to help. He has briefed Cosgrave on all current developments.
The Sunningdale Agreement later that year led to a power-sharing executive forming in January 1974, but it was brought down by a loyalist strike in May 1974.
For more on the background to political developments in Northern Ireland, see our exhibitions Civil Rights Movement 1968-69 and Northern Ireland 1969.
This RTÉ News report was broadcast on 17 September 1973.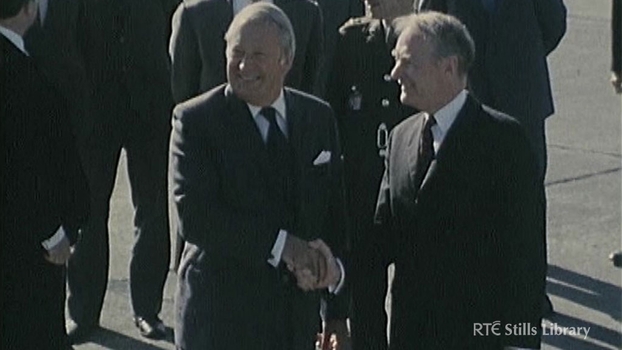 Liam Cosgrave greeting Edward Heath on his arrival at Baldonnel Airport in Dublin.