One former British soldier is to be charged with the murder of civilians on Bloody Sunday in Derry in January 1972.
Fourteen people were killed when members of the Parachute Regiment opened fire on a civil rights march.
Northern Ireland's Public Prosecution Service considered whether there was sufficient evidence to bring charges against 18 former soldiers, one of whom has since died.

Relatives of those killed on Bloody Sunday and their lawyers met the PPS at 10am to be told of its decision.
Each was given a letter setting out the position in their case.
The families said they are disappointed that not all of those responsible are to face trial and will now give careful consideration to the reasons provided for decisions not to prosecute the other soldiers.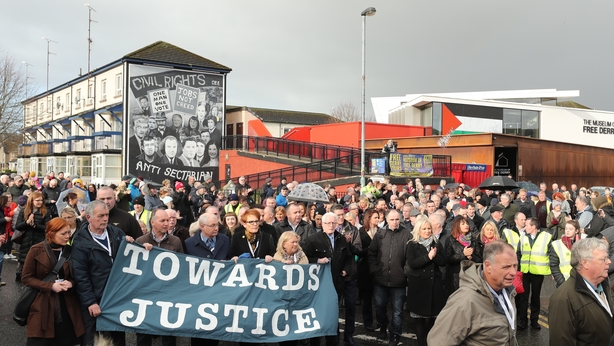 Director of the PPS Stephen Herron confirmed that one former soldier, referred to as Soldier F, will be prosecuted for the murders of James Wray and William McKinney.

He will also be charged with the attempted murders of Joseph Friel, Michael Quinn, Joe Mahon and Patrick O'Donnell.

The decision means the PPS believes there is sufficient evidence to provide a reasonable prospect of conviction, and that prosecution would be in the public interest.
Mr Herron added: "In respect of the other suspects reported to us by police, including 16 former soldiers and two alleged Official IRA members, it has been concluded that the available evidence is insufficient to provide a reasonable prospect of conviction".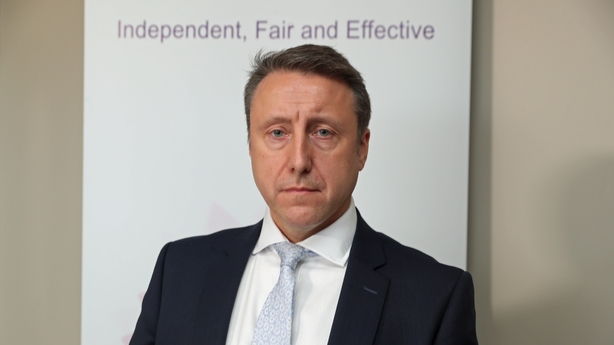 We need your consent to load this rte-player contentWe use rte-player to manage extra content that can set cookies on your device and collect data about your activity. Please review their details and accept them to load the content.Manage Preferences
---
Read more
From the Archives
---
Mr Herron continued: "There has been a level of expectation around the prosecution decisions in light of the findings of the Bloody Sunday Inquiry. However, much of the material which was available for consideration by the Inquiry is not admissible in criminal proceedings, due to the strict rules of evidence that apply.
"I wish to clearly state that where a decision has been reached not to prosecute, this is no way diminishes any finding by the Bloody Sunday Inquiry that those killed or injured were not posing a threat to any of the soldiers." 
Mr Herron said: "We recognise the deep disappointment felt by many of those we met with today. As prosecutors we are required to be wholly objective in our approach.
"However, that does not mean that we do not have compassion for all those who are affected by our decisions." 
A spokesman for the Government said: "Our thoughts are with all the families of those who were killed and those injured on Bloody Sunday, for whom today will be another difficult and emotional day.
"The Department of Foreign Affairs and Trade is keeping in contact with the families at this time on behalf of the Government.
"All victims' families deserve, and must have access to, effective investigations into killings that took place, and have the opportunity to find justice in accordance with the law and regardless of the perpetrator."
The retired soldier is expected to robustly contest the charges and the British Ministry of Defence has said it will pay the legal costs.
In a statement after the announcement, the MoD said serving and former personnel cannot live in constant fear of prosecution.
We need your consent to load this rte-player contentWe use rte-player to manage extra content that can set cookies on your device and collect data about your activity. Please review their details and accept them to load the content.Manage Preferences
Speaking at a press conference in Derry, John Kelly, whose brother Michael was one of those shot dead, said the families had "a terrible disappointment" when told that just one former soldier was to be charged with murder. 
Welcoming news that soldier F is to be charged, Mr Kelly said the victory for those families "is our victory" and his statement was greeted by loud applause from relatives and supporters packed into the Guildhall.
The press conference ended with a minute's silence for the victims.
The soldiers were members of a support company of the 1st Battalion Parachute Regiment.
Prosecutors had been considering evidence in relation to counts of murder, attempted murder and causing grievous injury with intent.
A public inquiry conducted by a senior judge shortly after the deaths was branded a whitewash by victims' families and a campaign was launched for a new public inquiry.
Relatives sought to right the wrongs of false claims that their loved ones had been armed.
A fresh inquiry was eventually ordered by then prime minister Tony Blair in 1998.
A decade-long investigation by Lord Saville of Newdigate concluded that the troops killed protesters who posed no threat, and seriously criticised the decision to send them into the Bogside estate in vehicles.
Following the inquiry's conclusion in 2010, then prime minister David Cameron said the killings were "unjustified and unjustifiable".
A murder investigation by the PSNI followed and files on 18 soldiers were submitted to prosecutors in 2016 and 2017 for consideration. One has since died.
Four other soldiers included in the Saville Report died before police had completed their investigation.
Papers before prosecutors included 668 witness statements and numerous photos, video and audio evidence.
Additional Reporting PA