This is a day for which the families of those killed on Bloody Sunday have been waiting for nearly half a century.
They met Northern Ireland's Director of Public Prosecutions behind closed doors at 10am and heard that one former British soldier is to be charged for the murder of two civilians and the attempted murder of four others.
Evidence about the actions of 18 former soldiers, one of who has since died, was considered.
From the day 14 people were killed by members of the 1st Battalion of the Parachute Regiment on 30 January 1972, they disputed British army claims that those killed were IRA gunmen.
The relatives insisted their loved ones were unarmed civilians shot without provocation. They vowed they would not rest until members of the parachute regiment involved in the killings were brought before the courts.
"We are cautiously optimistic," says Julie Anne Campbell, whose uncle Jackie Duddy was one of those killed.
"All we have ever wanted is the truth. As far as we are concerned, even if just one soldier is prosecuted it will be a victory for us all."
The announcement by the Public Prosecution Service (PPS) today comes 47 years after an official British government inquiry concluded that the soldiers had done nothing wrong.
The day after the shootings the British government appointed Lord Chief Justice Widgery to hold a public inquiry.
It lasted just three weeks and Lord Widgery refused to take evidence from the vast majority of civilian witnesses. It was later revealed that soldiers on duty in Derry that day had been coached on what to say in their statements.
Lord Widgery's findings mirrored the version of events given by the army, which said soldiers had come under sustained attack.
It concluded that while none of those killed or injured "is proved to have been shot whilst handling a firearm or bomb ... there is a strong suspicion that some ... had been firing weapons or handling bombs".
The findings were strongly criticised by relatives of those who were killed and nationalist politicians, with the report branded a whitewash.
After a long campaign by the families and their supporters, in 1998, then British prime minister Tony Blair appointed a former High Court judge, Lord Saville of Newdigate, to conduct a new public inquiry.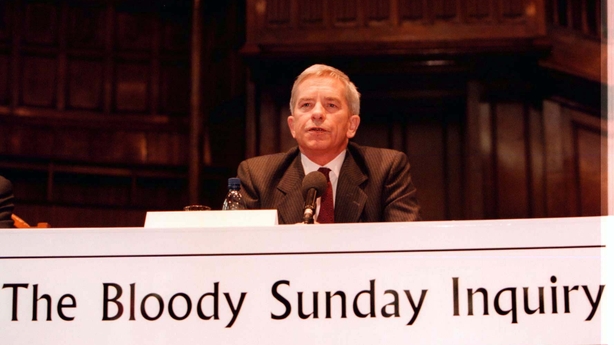 His approach and findings were radically different to Lord Widgery. Lord Saville's inquiry took 12 years to complete and cost nearly £200m.
It was the longest and most expensive inquiry in British legal history. He heard evidence from nearly 2,000 witness during 435 days of oral hearings.
His report, published in June 2010, ran to 5,000 pages. It exonerated all of those who were killed, saying none had been posing a threat or doing anything that could justify their shooting.
Lord Saville said some of those who were shot had been clearly fleeing or going to help the injured and dying.
He also concluded that soldiers had fired the first shot and gave no warning, and said many of the soldiers had lied about their actions.
One the day the report was published, then British Prime Minister David Cameron made a statement in the House of Commons that was broadcast live on a giant screen to a large crowd gathered outside Derry's Guildhall.
There were loud cheers when he outlined the findings and said that what happened on Bloody Sunday was "unjustified and unjustifiable", and issued an apology.
The families were jubilant. But for many, there was a vital next chapter in the story. They wanted the soldiers responsible to be prosecuted.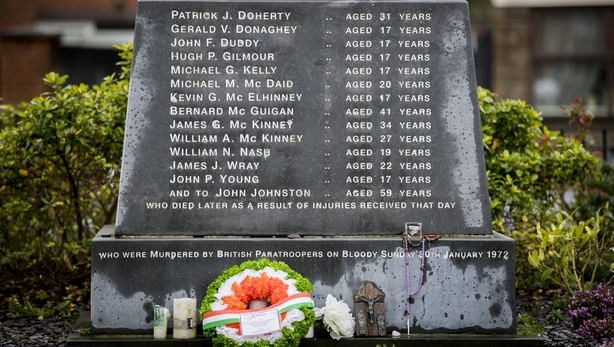 In 2016 and 2017, the PSNI sent files to the PPS on 20 suspects. 18 of them were soldiers, one of whom has since died, and two others were alleged members of the Official IRA.
Lawyers considered whether to bring charges against former soldiers in relation to 13 people shot dead on the day.
The charges considered included murder, attempted murder and causing grievous bodily injury with intent.
The prosecution lawyers considered whether cases against each of the individuals would meet the 'Test for Prosecution'.
This is met if, in relation to an identifiable suspect, the available evidence is sufficient to provide a reasonable prospect of a conviction (the Evidential Test) and if prosecution is in the public interest (the Public Interest Test).
The Evidential Test must be passed first before the Public Interest Test is considered.
The amount of material was vast. The PSNI files consisted of 668 witness statements and numerous physical exhibits such as photos, videos and audio material. There were approximately 20,000 pages of material.
Prosecutors also considered evidence given during the Bloody Sunday Inquiry, which heard from nearly 2,000 witness during 435 days of oral hearings, as well as Lord Saville's 5,000-page report.
There was other underlying material such as statements and oral evidence given by eyewitnesses during the period from 1972 to 2010.
In total, the PPS estimates there were 125,000 pages of material to be considered by the prosecution team.
Relatives of those killed will be told what the PPS has decided before the decision is made public.
Large crowds are expected to gather in Guildhall Square to hear news of the decision. The families hope today will be the start of the final chapter.
"From the outset, the families have had three demands," explains Julie Anne Campbell.
"We wanted the flawed findings of the Widgery Report to be repudiated, we wanted a statement that our loved ones were innocent, and we wanted the soldiers who killed them to be brought to justice.
"We are now only waiting for that third demand to be met."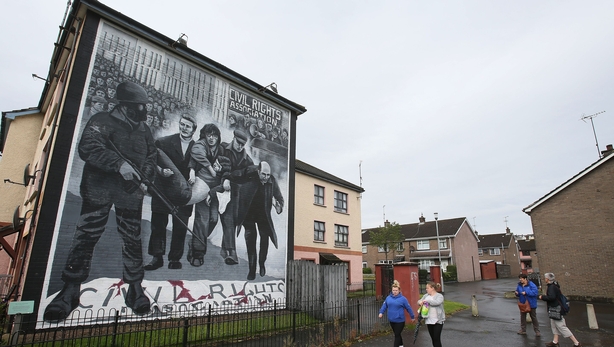 Bloody Sunday soldiers
Lord Saville said he was confident he could positively identify soldiers responsible for the killings on Bloody Sunday.
He imposed a ban on naming any of the former members of the British Army's Parachute Regiment and instead referred to them by letters.
His report said one soldier, Lance Corporal F, killed Patrick Doherty, Michael Kelly, Bernard McGuigan and possibly also William McKinney and James Wray.
"Lance Corporal F did not fire in a state of fear or panic," it stated.
Today Soldier F was charged with the murders of William McKinney and James Wray and the attempted murder of four others.
The Saville Report said: "We are sure that he fired either in the belief that no-one in the area into which he fired was posing a threat of causing death or serious injury, or not caring whether to not anyone there was posing such a threat.
"Other soldiers who he said definitely killed people on the day were R, G and U."
In other cases he said it was too difficult to work out who exactly was responsible.
The report also said many of the soldiers who gave evidence about the shootings had lied.
"With the exception of Private T (and another soldier in one specific incident), none of the firing by the soldiers of Support Company was aimed at people posing a threat of causing death or serious injury," it said.
"We have concluded, for the reasons we give, that apart from Private T many of these soldiers have knowingly put forward false accounts in order to seek to justify their firing."