Taoiseach Leo Varadkar has had a "constructive" meeting with British Prime Minister Theresa May in Brussels.
Both leaders held a 30-minute meeting ahead of a two-day EU summit.
Earlier, Mr Varadkar said he could support the idea of a one-year extension to the two-year Brexit transition period, which will run after 29 March next year.
However, it could not be a substitute for the backstop, he said.
"From Ireland's point of view we're willing to hear any proposals that might help to bring about a solution.
"A lot of us feel that negotiating a new economic and security relationship between the EU and UK within two years would be a real challenge and bear in mind within those two years you'd have to negotiate this new relationship, and it also has to be ratified by 28 parliaments.
"But I really need to say though that any extension to the transition period couldn't be a substitute for the backstop.
"We would still need to have that, but perhaps it would allow people to have greater confidence than it would ever need to be invoked."
Yesterday, the EU's chief negotiator Michel Barnier outlined the idea to member states of extending the two-year Brexit transition by a year to provide more time to develop a temporary customs arrangement between the EU and UK. 
The Taoiseach said Ireland's position remained that there had to be a legally operative backstop to ensure there would not be a hard border on the island of Ireland.
"As the EU and UK agreed in writing back in March it must apply unless and until ... It can be temporary by all means but it can't have an expiry date.
"It can only be temporary unless and until we have an alternative agreement that also ensures there will be no hard border on the island of Ireland.
"That's what we agreed in writing, the EU and the UK back in March. So this is not just now an issue of substance, it's also an issue of trust."
We need your consent to load this rte-player contentWe use rte-player to manage extra content that can set cookies on your device and collect data about your activity. Please review their details and accept them to load the content.Manage Preferences
---
Read more:
Taoiseach says 'significant gaps remain' in Brexit talks
Theresa May updates cabinet on Brexit talks ahead of summit
Coveney denies Howlin claims on Brexit backstop postponement
---
Speaking on his way into a meeting of the centre-right European People's Party (EPP) in Brussels ahead of the summit, the Taoiseach said EU leaders would decide this evening whether or not to have an emergency summit in November.
This evening, a senior EU source told RTÉ News it is unlikely a date will be set for a Brexit summit next month.
Senior EU source says unlikely a date will be set for a November Brexit summit. "There won't be any date set, it will depend on how progress [in the negotiations] is going."

— Tony Connelly (@tconnellyRTE) October 17, 2018
Separately, Mr Varadkar said he "had a difficulty" with Micheál Martin's suggestion that both Fianna Fáil and Fine Gael should agree a guarantee of no election until late January, pending the latest date for a vote in the House of Commons to ratify the Withdrawal Agreement.
"I don't think that an Irish government or an Irish parliament should ever fall on the basis of a vote that happens in the British parliament, or any foreign parliament for that matter.
"I think that could potentially even play into the hands of hardline Brexiteers or people who would oppose a deal that PM May might put to parliament.
"Imagine a situation whereby those opposing a deal would be able to say as a result of a vote in the House of Commons, not only would that deal be defeated, it would also bring down the Irish Government, so I'm not sure if Deputy Martin thought that through.
"I'm sure his intentions were very decent, but he probably didn't think that through strategically."
People need to hold their nerve over Brexit negotiations - Coveney
Tánaiste and Minister for Foreign Affairs Simon Coveney has said that people need to hold their nerve in relation to the Brexit negotiations, which are at a very sensitive and difficult stage.
He said that a lot of progress had been made by both the EU and UK negotiating teams over the past few weeks and that it was always going to be difficult to get the final wording agreed.
Mr Coveney said that we need to stick with it and trust the Barnier task force which, he said, has so far been very effective negotiating to protect Irish and European interests.
He said that it would take a few more weeks but that in his view a deal is far more likely than a no-deal Brexit.
Mrs May held separate meetings not only with Mr Varadkar, but also with European Commission President Jean-Claude Juncker and European Council President Donald Tusk, before addressing EU leaders in Brussels.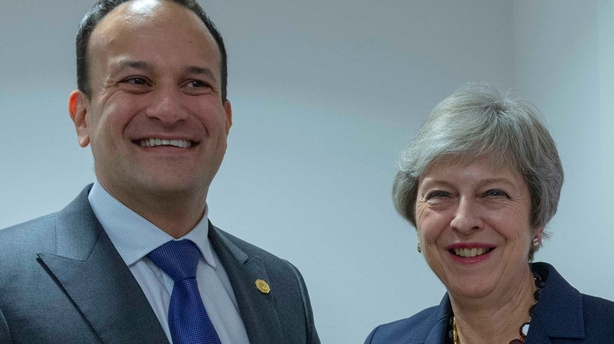 She said she would be talking to leaders about about the "very good progress that has been made since Salzburg both on the withdrawal agreement and our future partnership.
"The teams have been working very hard to ensure we can address these issues. We have solved most of the issues in the withdrawal agreement. There is still the question of the Northern Irish backstop.
"But I believe everybody around the table wants to get a deal. By working intensively and closely, we can achieve that deal," said the British Prime Minister.
Theresa May: very good progress made since Salzburg, teams of negotiators working "very hard". We've solved most of the WA issues.

— Tony Connelly (@tconnellyRTE) October 17, 2018
Mrs May did not say whether she was bringing the "concrete proposals" demanded by European Council President Donald Tusk.
And she did not respond to questions over whether she believed a special Brexit summit would be called for November, or whether she would welcome the offer of a year-long extension of the proposed transition period after Brexit to the end of 2021.
It is understood that negotiators believe the idea would help the British government reassure the DUP and eurosceptics that the backstop to avoid a hard border in Ireland would not be needed.