Tánaiste and Minister for Foreign Affairs Simon Coveney has rejected comments by Labour leader Brendan Howlin, who claimed the European Union was considering postponing or deferring the backstop.
"There is no sense from any conversations I've had with EU foreign ministers, that anybody is questioning or undermining the EU position on the Irish backstop, quite the opposite in fact," Mr Coveney said.
Earlier, Mr Howlin said a "very dangerous" suggestion was being made in Europe that the Irish backstop issue should be postponed or deferred.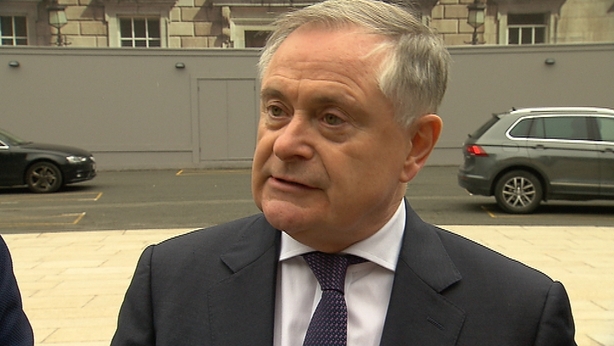 He said colleagues in Europe have indicated this suggestion was being considered.
"I think that is very dangerous for us and it is something that we have to resist. But it was predictable," Mr Howlin said.
He believes there is still solidarity with Ireland from Social Democratic colleagues in relation to this matter, but that will become a focal point over the next number of days.
Mr Howlin said: "There has to be a clear determination set out by the Irish Government on the backstop issue."
He said that there must be a permanent backstop and "the idea of a temporary backstop is a bizarre suggestion".
Mr Coveney said: "I'm not sure what sources Brendan Howlin is getting his information from, but I suspect they are not as credible as the assurances we're getting from the chief negotiator today."
Following talks with EU negotiator Michel Barnier in Brussels, Mr Coveney made clear that the Government would not accept a time-limited backstop.
Mr Coveney said: "We cannot sign up to - and I don't believe Michel Barnier would ever ask European countries to sign up to - a backstop for Ireland that isn't there unless and until something better is agreed.
"If you set a date in the future when a backstop falls, then it is not a backstop at all, unless something is there to replace it which has been negotiated and agreed."
Mr Coveney said that Mr Barnier had assured him that he continued to enjoy "absolute support" from the 27 remaining EU states for his approach to the border issue.
Asked whether he expected a special Brexit summit to be called for November, the Tanaiste said: "I expect what will be needed is an acceptance that more time is needed for negotiating teams to re-engage.
"I think there is going to have to be a signal from the negotiating teams that a new summit is necessary before it will be called."
Michel Barnier says #brexit withdrawal deal must preclude hard border | https://t.co/mWjCPe9lbD pic.twitter.com/6BZfd7GAU1

— RTÉ News (@rtenews) October 16, 2018
---
Read more:
May to meet 'divided' cabinet as Brexit summit looms
Latest Brexit headlines
---
We need your consent to load this rte-player contentWe use rte-player to manage extra content that can set cookies on your device and collect data about your activity. Please review their details and accept them to load the content.Manage Preferences
Issue of border 'dreamt up'
Elsewhere, the DUP's Brexit spokesperson has said the issue of the border has been "dreamt up" as a problem by the EU and Government as a way to keep UK in the customs union and the single market.
Speaking on RTÉ's Today with Sean O'Rourke, Sammy Wilson said he believed we were heading for a no-deal Brexit and the big losers in that will be the Republic of Ireland.
Mr Wilson said the decision to take a hard line on the border issue would backfire badly on the Irish Government and Irish producers.
Fianna Fáil's Brexit spokesperson said the border was a very real issue and would not be taken off the table just because the DUP wanted it to be.
Speaking on the same programme, Lisa Chambers said there was an opportunity for Northern Ireland to be given a special economic zone and have preferential access to both markets.