Brendan Bowyer and the Royal Showband go shopping in Dublin's city-centre accompanied by dancing girls.
A filmed report set to instrumental music for the series 'The Showband Show'.
Santa Claus delivers a present to a young boy in a bungalow. The boy is not happy with his present so Brendan Bowyer and the Royal Showband and ladies go shopping around O'Connell Street and Henry Street in Dublin city centre. They go to the Roches Stores department store on Henry Street, look at various presents and then play with toy guns. The boy is happy with his new present although he does not open the box.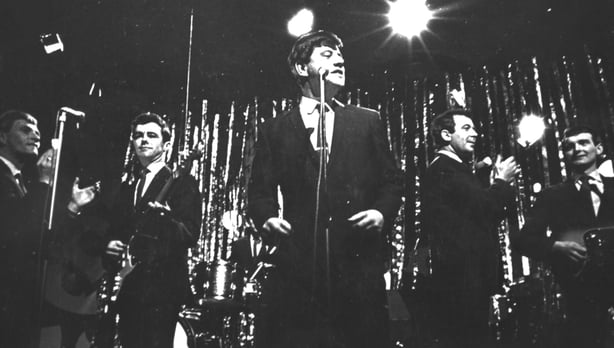 The Royal Showband with Brendan Bowyer
'The Showband Show' was a music series featuring performances from Ireland's popular artists. The series was broadcast during the 1960s. The film insert here was broadcast as part of a Christmas day special featuring The Royal Showband from 1963.
| | |
| --- | --- |
| Title: | The Royal Showband Christmas Shopping |
| Clip Duration: | 00:02:44 |
| Material Type: | Video |
| Clip Title: | Showband Stars Shopping Spree |
| Series Title: | The Showband Show |
| Information: | 'The Showband Show' was a music series featuring performances from Ireland's popular artists. The series was broadcast during the 1960s. The film insert here was broadcast as part of a Christmas day special featuring The Royal Showband from 1963. |
| Local Keywords: | Christmas, Shopping, Royal Showband, Brendan Bowyer, Roches Stores, Henry Street, Santa Claus, Dublin, Christmas Presents |
| Coverage: | Henry Street, Dublin, Ireland |
| Topic: | National Holidays, Festivals, Anniversaries, Annual Events |
| Publisher: | RTÉ |
| First Broadcast Channel: | Telefís Éireann |
| Broadcast Date: | 25/12/1963 |
| Production Year: | 1963 |
| Country of Production: | IRELAND |
| Original Identifier: | P64/00063 |
| IPR Restrictions: | Rights Reserved - Free Access |
| Rights, Terms and Conditions: | Copyright RTÉ. This material may not be replicated in any form or manner without the prior express permission of RTÉ. Any form of reproduction in print, television, video, multimedia, web site or other electronic media or any form of dissemination for commercial or non-commercial use must be licensed by the RTÉ Archives. If you wish to licence video or audio clips, still images or text, or would like further guidance please contact us. RTÉ Archives are committed to respecting the copyright of others and have attempted to source and credit the copyright owners of all material used here. RTÉ would like to hear from any copyright owners who are not properly identified here so that the necessary corrections can be made. If you feel your copyright has not been respected please contact us. |
| Item Type: | part/extract |
| Colour: | Black and White |
| Sound: | Mono |
| Aspect Ratio: | 4:3 |
| Language: | English (eng) |
| Original Language: | English (eng) |