Asked to choose three highlights from his international rugby career Karl Mullen picked two from 1948 when he captained Ireland to their first Grand Slam.
Choosing outstanding memories from his time with Ireland rugby team Karl Mullen has no hesitation with his first choice. Pride of place goes to captaining Ireland to victory against England at Twickenham on 14 February 1948. A young Ireland side were well ahead when a Barney Mullan penalty attempt hit the cross bar and rebounded to Jack Kyle. His pass to the wing was intercepted by Dickie Guest who ran from his own line to score under Ireland's post. England were only a point behind.
Instead of winning being 14 points to five, it was 11 points to 10.
Having beaten France in their opening game the win over England was the first leg of the Triple Crown and put Ireland top of the Five Nations Championship.
His second outstanding rugby moment memory was when Jack Kyle playing for the British and Irish Lions shocked New Zealand by scoring a try from his own 25, running eighty yards to beat six top class players including Bob Scott.
Karl Mullen returns to 1948 for his third outstanding memory When Ireland beat Wales 6-3 at Ravenhill in Belfast on 13 March it was to secure a first Triple Crown in 50 years and to complete the Grand Slam for the first time to win the Five Nations Championship.
The crowd were just hysterical.
When it comes to who thinks was the best rugby player, Karl Mullen is without any doubt that Jack Kyle was the greatest of them all.
He was Mr Football.
Karl Mullen describes that Ireland rugby team from 1948 as winners, who over a four year period won 14 out of 16 matches.
This interview was recorded for 'Where Are They Now?' on the 4 February 1967. The interviewer is Jimmy Magee.
From the RTÉ Archives Acetate Disc Collection which has been digitised with the support of the Broadcasting Authority of Ireland (BAI) Archiving Scheme.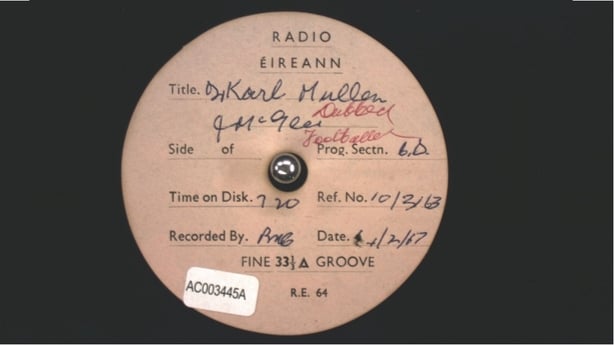 [Top Photo] 17th March 1951: Irish rugby player Karl Mullen tying his boot laces in the changing room. Original Publication: Picture Post - 5230 - Team Of the Year - pub. 1951 (Photo by William Vanderson/Picture Post/Hulton Archive/Getty Images)