Knockcroghery in County Roscommon was once home to a thriving clay pipe industry.
Situated on the road from Athlone to Roscommon town, the village of Knockcroghery was at one time home to a clay pipe industry that supplied handcrafted pipes to tobacco smokers nationwide as well as overseas.
Ethel Kelly moved to Knockcroghery three years ago. Her interest in clay pipes (also called dúidíns) began when she unearthed hundreds of handmade pipes while carrying out work in her back garden.
Researching the topic further in the Local Studies and Archives section of Roscommon County Library, Ethel established that her house had previously been used as pipe factory by PJ Curley,
They have a great archive room here.
The Claypipe Visitors Centre and Workshop opened its doors to the public last June, and visitors to the locality can now learn about the history of clay pipe making in Knockcroghery, thanks to Ethel's research and photographs from the Ulster Museum. She also demonstrates art of pipe making.
Growing up in an Irish-American community John Craven from Idaho heard about clay pipes from older people, and is very pleased that he has finally found one,
This is certainly going to be one of the high points of our visit.
Over one hundred people were employed in the clay pipe industry, and entire families worked in the business. Paul Hyland's grandfather oversaw the factory where three of his siblings manufactured them, and a fourth was the salesman,
Paddy went around with a cart around the country...supplying certain centres with clay pipes.
Local publican Jimmy (James) Murray captained the Roscommon Senior Football team on the two occasions the country won the All-Ireland Senior Football Championship. Clay pipes were still being made in Knockcroghery when he was a very young child,
The ordinary people smoked the clay pipe all the time.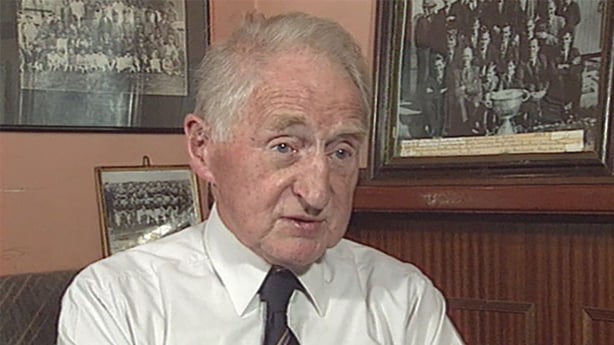 James Murray (1997)
Cigarette smoking became more popular following the First World War and the burning of Knockcroghery by the Black and Tans in 1921 brought about the end of the pipe making industry in the area.
Compensation payments facilitated pipemakers to move into to other businesses, but thanks to the Claypipe Visitors Centre and Workshop,
Memories of their trade have been well and truly revived in Knockcroghery for all to see.
This report for 'Nationwide' was broadcast on 26 September 1997. The reporter is Diarmuid Peavoy.
This report contains photographs which are not RTÉ copyright.