The new airport at Cork is proving to be a big success.
Work began on the construction of Cork Airport on 14 November 1959 and it officially opened less than two years later on 16 October 1961. After just 10 months in operation, Cork Airport has already well exceeded the traffic expectations of the planners.
The airport has become an immediate success.
Planners had expected 30,000 people to use the airport in the first year. The actual number of passengers will be double. Up to the end of June 1962, 40,000 passengers travelled through the airport as well as 193 tonnes of freight. In July alone, the airport had 10,000 passengers and handled 38 tonnes of freight. Figures for August and September are expected to be even higher.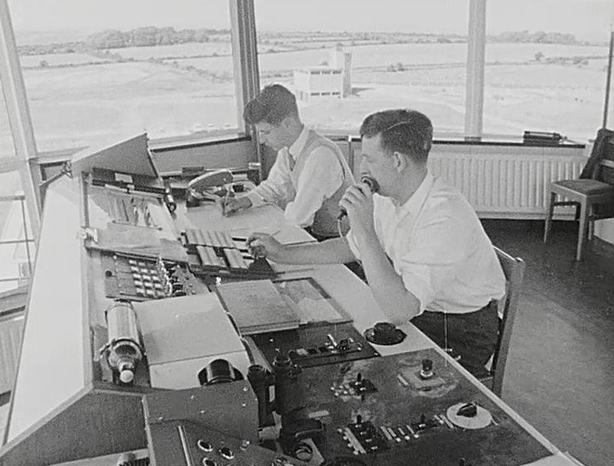 The airfield covering over 500 statute acres and the main runway is 6,000 feet long and 50 yards wide. The airport cost over a million pounds to build and is equipped with all the latest in modern instrument landing technology.
Catering facilities at Cork Airport are managed by CIÉ's catering subsidiary. The restaurant itself has a special sprung floor for dancing. The airport intends to build a name for itself as a gourmet's paradise. There is also a bar which is three times the size of the bar in Dublin Airport.
Many of the passengers used to fly through Dublin. The new airport at Cork saves them a long road journey. Other passengers are flying for the first time as,
The air age has come to Cork.
Aer Lingus is the major airline in operation at the airport with over fifty flights a week. In addition, four British airlines offer regular scheduled services through Cork Airport.
This episode of 'Broadsheet' was broadcast on 9 August 1962. The reporter is PP O'Reilly.
'Broadsheet' was a magazine style, nightly review of people and events introduced by John O'Donoghue and presented by the Broadsheet Unit.