An Taoiseach Charles Haughey departs from Dublin Airport for a Saint Patrick's Day visit to the White House.
An Taoiseach Charles Haughey flies out from Dublin for a three day visit to the United States.
Charles Haughey is joined on the trip by his wife Maureen and daughter Eimear. The Haugheys were also accompanied by several senior civil servants and Secretary of the Department of Foreign Affairs Mr Sean Donlon. They were seen off by members of the cabinet including the Minister for Justice Sean Doherty, Minister for the Environment Ray Burke, Minister for the Gaeltacht P Flynn and Minister for Health and Social Welfare Michael Woods.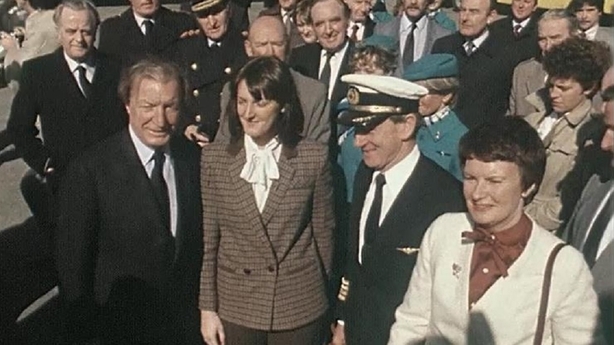 Before boarding the St Kiernan Aer Lingus plane, the Taoiseach reviewed a guard of honour of the army band as they played at Dublin Airport.
Charles Haughey will discuss Northern Ireland with President Ronald Reagan at The White House. The itinerary also includes meeting with the Economic Club of New York. Charles Haughey will be the first Taoiseach to address this body made up of over 1,000 influential business people. He will stress the attractiveness of the Republic of Ireland for American investors.
An RTÉ News report broadcast on 15 March 1982.