Pajo, Fetchitt and Grabbit play detectives and investigate some strange happenings at the Casino in Marino.
Pajo, Fetchitt and Grabbit are to meet the Professor at the Casino in Marino where. While there appears to be no door, they eventually find the Professor at a window through which they make their entrance to the casino.
I'll bring you on a guided tour of this wonderful and mysterious building.
The Professor says that while the building is not exactly haunted, all is not what it seems. He describes the building as one of the finest in the world construction began in 1762 and it took 15 years to complete. The Professor begins to explain the history of the building before disappearing through a hidden door. Fetchitt is the next to go missing through a hidden panel in the wall.
This is a job for ace detective Pajo.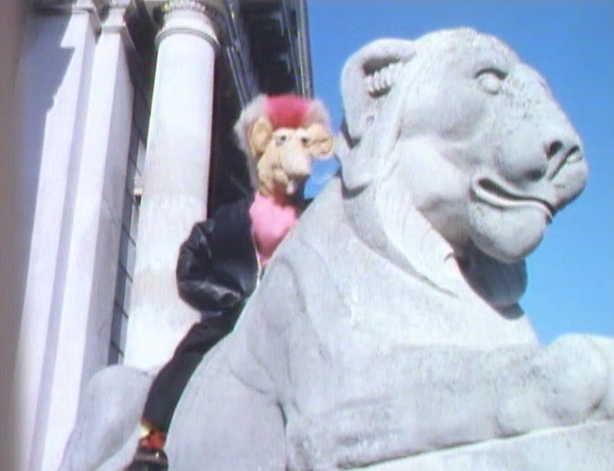 Pajo and Grabbit don detective outfits and with the help of a kit attempt to solve the mystery of the missing professor. It is not long before they find the professor and they turn their attention to locating Fetchitt. They make their way through the tunnels in the building before finding Fetchitt who is somewhat shook by the experience.
This episode of 'Pajo's Junkbox' was broadcast on 28 February 1987.
Pajo's Junk Box was a Saturday morning children's programme featuring the puppet Pajo with his human presenters Fechitt (Brendan Morrissey) and Grabbit (Rosemary Henderson).
As producer Art O Briain explained in the RTÉ Guide 17 August 1987,
Pajo is a puppet who has travelled the world and, having seen everything there is to be seen decides to settle down in a box in the back-lot of RTÉ Television. He has found a special box there for himself and there he lives quite happily. Each Saturday morning then he comes out of his box to present his Saturday morning kaleidoscope of songs entertainment and laughter.