Conference to promote freedom of expression and liberty.
Taoiseach Jack Lynch opens the 38th PEN Conference at the Royal Marine Hotel in Dun Laoghaire.
Writers and poets from 35 countries across five continents were in Dun Laoghaire for the 38th International PEN Conference. This year's conference marks 50 years since the foundation of PEN and is being held in Dublin for the first time.
PEN was founded in London in 1921 to foster cooperation amongst writers and promote literature and freedom of expression internationally. PEN originally stood for "Poets, Essayists, Novelists", and now stands for "Poets, Playwrights, Editors, Essayists, Novelists".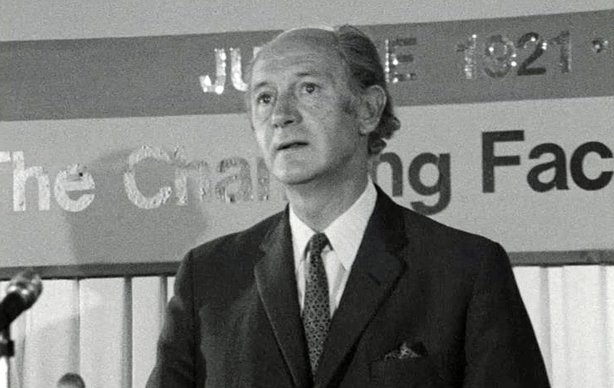 Jack Lynch speaking at the opening of the PEN Conference in Dublin (1971)
At the opening ceremony, Taoiseach Jack Lynch pays homage to PEN in striving to achieve the objective of its charter.
To protect and foster freedom of expression.
Mr Lynch notes that this is a service not just to the community of letters but to the human community as a whole.
Liberty is the precondition for both artistic and national self development.
Mr Lynch quoted a speech from the then Senator John F Kennedy in an address which he gave to Harvard University in 1956 where he said that freedom of expression is not divisible into political expression and intellectual expression. He says that democrats and men of letters should be in basic agreement on fundamentals.
An RTÉ News report broadcast on 14 September 1971.