Frank Hall recounts a war time tale of a conman and a dancing competition in Newry.
Frank Hall back in his hometown of Newry in County Down tells the story of an American soldier he encountered during World War II.
The entire armed force of Great Britain and America were all over the place.
At a dance one Sunday afternoon, Sergeant Paul Warner made a donation of prize money for a dancing competition. £10 each for the winning couple and £5 for the runner up. Frank Hall was astonished by his generosity but Sergeant Warner claimed he was the son of Jack Warner of Warner Brothers Pictures.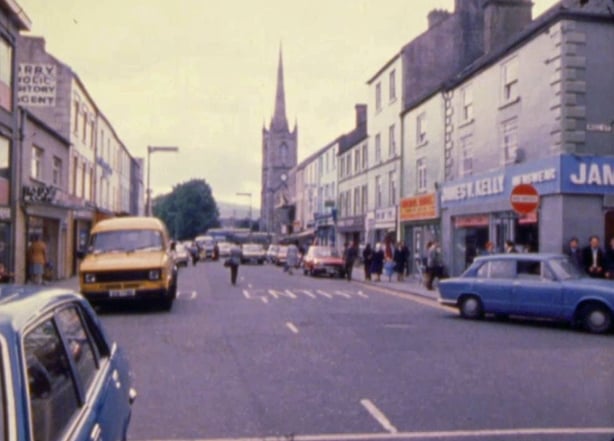 Newry (1981)
Sergeant Paul Warner continued to attend the dances every week and run the competitions. He suggested that these competitions would culminate on St Stephen's night at the Warrenpoint Town Hall with prizes of £50 each for the winners, £30 for the runners up and £20 for third place and trophies for all competitors.
That was one hell of a lot of money in those days.
Just before Christmas, Sergeant Warner vanished. On Christmas Eve, a telegram arrived from Warner who saying he was in Portsmouth hosting a big show with Bing Crosby amongst others. The show in Warrenpoint went on and they managed to break even.
All was not as it seemed. A few weeks later, they received news that Sergeant Paul Warner was now in hiding in Dublin. The story goes that Paul Warner had stolen some chequebooks and was giving out money right, left and centre.
We've a very good chance that Warner is up to his ears in trouble.
'Ireland's Eye' broadcast on 15 May 1981. The presenter is Frank Hall.