The owner of a Sandringham flying boat on visit to Killaloe gives the background to the aeroplane.
Ultan Guilfoyle goes on board a 1943 Sandringham flying boat, that has seen service all over the world from Australia to the Caribbean.
Killaloe is a place we normally associate with boats but not with flying boats.
Captain Ron Gillies the flying boat owner explains the Sandringham is a modification of the wartime Sunderland which was built by the Short Brothers in England. While the plane was built in 1943, it was not used during the war. It was one of the surplus aircraft and at the end of the war was modified to become a commercial aircraft. In 1946, it was taken to Short Brothers and Harland in Belfast and was converted to its current state with the removal of all military equipment. The original version had 28 seats and 42 were installed for commercial use.
Captain Ron Gillies joined the Australian airline Ansett and he flew the Sandringham up and down the east coast of Australia. They occasionally operated out of Fiji, Samoa and Tahiti among other places. It was eventually restricted in its operation on one run between Sydney and Lord Howe Island, the location of the southern most coral lagoon in the world. Shallow water at the site restricted when they could fly in and out.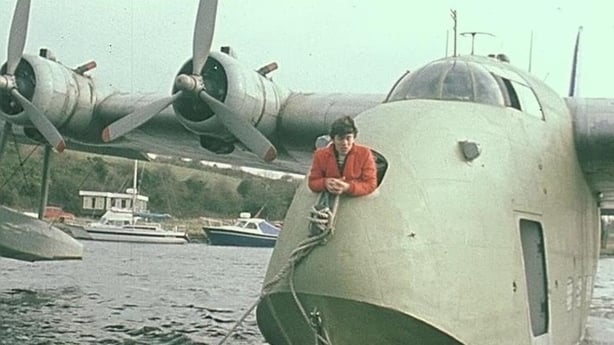 Ultan Guilfoyle on board the Sandringham Flying Boat in Killaloe
On many occasions, we did scrape on the bottom.
This plane along with one other supported the island of Howe transporting tourists, food, mail, supplies and even livestock. Captain Gilles describes it as the aerial equivalent of a cargo liner.
Since then, the plane has plied the oceans of the Caribbean taking princes and film stars to their own paradises.
In 1976, she arrived for the first time in Killaloe, County Clare.
It's neither a boat or a plane and you even have to wear a life jacket getting on board.
Captain Gilles explains the expense involved in maintaining and running the flying boat but believes that it important that is maintained in a working condition as a testament to the era of flight.
In these days of supersonic aircraft and shuttles into outer space, it's hard to imagine anything like this old bird flying again but there's no law to say that we can't dream.
This episode of 'Youngline' was broadcast on 20 April 1981. The reporter is Ultan Guilfoyle.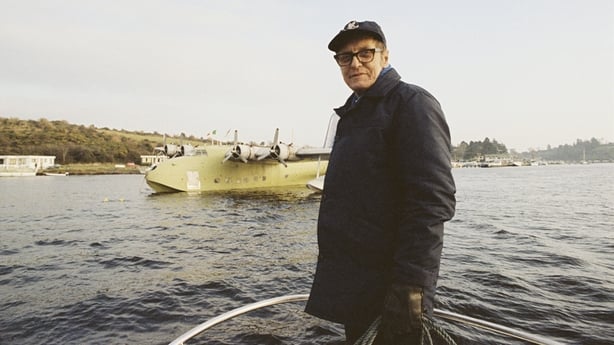 Captain Ron Gillies pictured with the Sandringham flying boat.