Tom Jones one of the most successful entertainers in show business performs a track from his forthcoming album on The Late Late Show.
Over a long career Welsh singer Tom Jones has had a string of hits including 'It's Not Unusual', 'What's New Pussycat', and 'Green Green Grass of Home.
He has become famous for the passion, for the power, for the thrust, for the sensuousness of his performance.
For this appearance he performs 'I Couldn't Say Goodbye' to from his album 'Carrying a Torch' to be released later in 1991. Tom Jones worked with Van Morrison on a number of tracks on the album and will be performing at The Point Theatre in Dublin on 12 April and at the King's Hall in Belfast on 13 April to coincide with the launch of the album.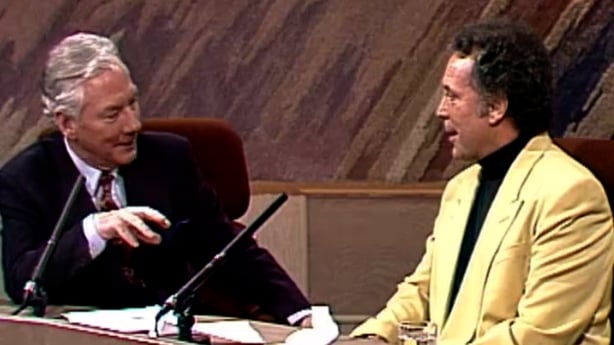 Gay Byrne and Tom Jones on The Late Late Show (1991)
Tom Jones says that in selecting what to perform and record he connects with powerful songs. He recalls being warned by Frank Sinatra that he sings too hard and that it will damage his voice. However, for Tom, it is the only way he knows how to sing and he turned down Frank Sinatra's offer to teach him a few vocal tips.
If I don't sing the way I feel, then it won't be right.
This episode of The Late Late Show was broadcast on 25 January 1991. The presenter is Gay Byrne.