A visit to Minthamee Camp in Burma, where a group of university students are fighting the Burmese military regime.
In 1948 Burma in Southeast Asia, also known as Myanmar was granted independence as a democratic nation. Following a coup d'état in 1962, it became a military dictatorship under the Burma Socialist Programme Party.
In August 1988 students began to voice their resentment over the economy and the government's wide restrictions on personal freedom. On 8 August 1988, thousands of people marched on the streets of the capital city Rangoon and other cities and towns across Burma.
In September 1988 the pro-democracy demonstrations were met with a harsh military crackdown, killing 3,000 demonstrators. Some 10,000 fled to the jungle to continue the fight against the military dictatorship. At the Minthamee Camp in a remote part of the jungle near the border with Thailand, an army of university students anxious to continue the revolution are fighting the Burmese military regime.
The students know they are facing one of the most brutal regimes in Asia.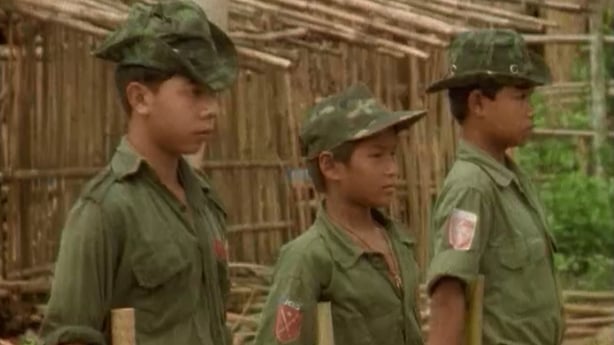 The students are not fighting alone. They have joined forces with the Karen, an ethnic minority who have been fighting the Burmese since the 1960s.
The revolutionaries have formed The All Burma Students' Democratic Front which has continued the fight since 1988. Of the original 10,000, there are 3,000 students living in makeshift camps around the border regions.
We have no faith in military governments and we have no intention of returning to our homes until this one is completely overthrown and a new one installed which shows respect for human rights, when that happens, the student revolution and the people's protest will come to an end.
'Radharc: Asia's Quiet War' was broadcast on 21 August 1990. The reporter is Peter Kelly.