Dubliner Ellen Kennedy talks about growing up in York Street and starting work aged fourteen.
Ellen Kennedy a cleaner from York Street in Dublin reminisces about her childhood. She remembers it as a happy period in her life.
I remember the good times really, we never really had any really really bad times, and then it was a great street to live in then York Street, you know, as everybody knew each other.
Ellen Kennedy and her friends all left school at the age of 14 and went straight into the workforce, usually in factories. They were glad to leave school and their parents needed their wages, even though they were small.
We never thought to advance ourselves in studies which the children have a chance to do nowadays.
Ellen Kennedy got her first job in a sewing factory where she stayed for eight years. She recalls an occasion where a cow from the slaughter house under the premises found its way into the factory and bedlam ensued. The staff were given a day off as the cow destroyed the factory. The forewoman Miss McCormack was taken to the Meath Hospital. Coincidentally on the same day, a cow broke into Elverys on O'Connell Street and made the headlines,
We never got into the paper, it was Elverys that got into the paper.
Her next job was in Renshaws the almond specialists where she stayed for 22 years. She loved working there and even if the wages were low, there was plenty of overtime to augment her pay.
One time her colleague Peggy fell through the roof, but her fall was broken by a horse standing on the street below. A year later a man fell from the same spot and died. Ellen Kennedy can only conclude that Peggy's life was saved because she fell on top of the horse.
'Plain Tales' is a unique series in which six unknown women from various parts of the country tell their life stories in their own way. The producer and director of the series Nuala Ó Faoláin recognised the voice of elderly women in society as well as on television is marginalised. 'Plain Tales' provides a platform for this cohort to have their say.
Nuala Ó Faoláin was keen to highlight the voice of women whose lives are ordinary and could talk about the ordinary things. The series utilises minimum production techniques, there is no presenter, no formal interviews. The women are filmed in their own homes so they feel comfortable talking to the camera. In 1986 Nuala Ó Faoláin won a Jacob's Award for the series.
This episode of 'Plain Tales' was broadcast on 29 July 1985. The producer and director is Nuala Ó Faoláin.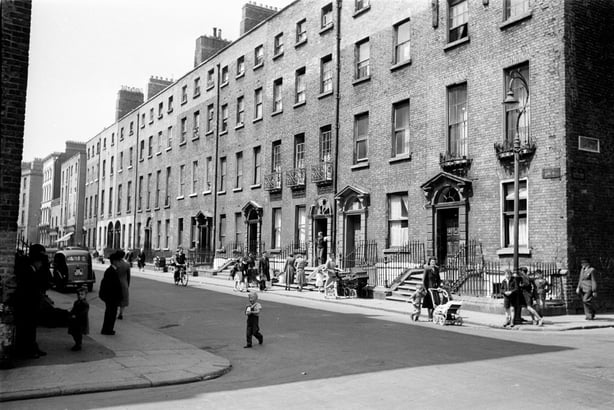 York Street in 1952 or 1953.